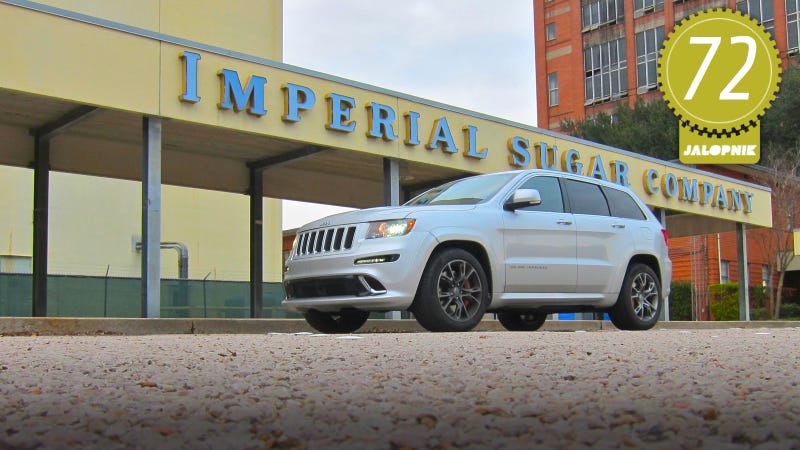 A brand new Camaro SS Convertible will do 0-to-60 MPH in roughly 4.8 seconds. The brand new SRT8 Jeep Grand Cherokee will do it in about the same time. I knew that. The young woman in the Camaro SS next to me looking to sprint down the mostly abandoned section of rural Texas highway clearly didn't.
I couldn't measure the surprise on her face as I casually left her behind at the stoplight because she was too far away. The latest SRT8 is a lot like the Spanish Inquisition in that it's both violent and unexpected. It puts the Torque in Torquemada.
We live in a time where engineers can make vehicles that look like weird truck-wagon mixtures perform better than the sports cars of the previous generation. In the future, these vehicles may well be the hallmarks historians point to in order to portray the unseemly excesses of a culture hell bent on its own violent self-destruction.
It's not the future yet and violent self-destruction is fun. Compared to the previous generation the line on the latest Jeep is that it's apparently more refined — a nod to the German platform underneath. That's overstating it a bit. Rommel was apparently a gentleman but I wouldn't want to be staring down the nose of his panzerkorps, if you know what I mean.
So you know the Jeep SRT8 has the surprising fury of the Spanish Inquisition and the "refined" strength of the Desert Fox. How much more history can I squeeze into this review?
I drove the SRT8 to the Circuit of the Americas venue, which was under construction for a future US Grand Prix (which I think they should call the Texas Grand Prix because "You can all go to hell, I'm going to the Texas Grand Prix" would make a great shirt).