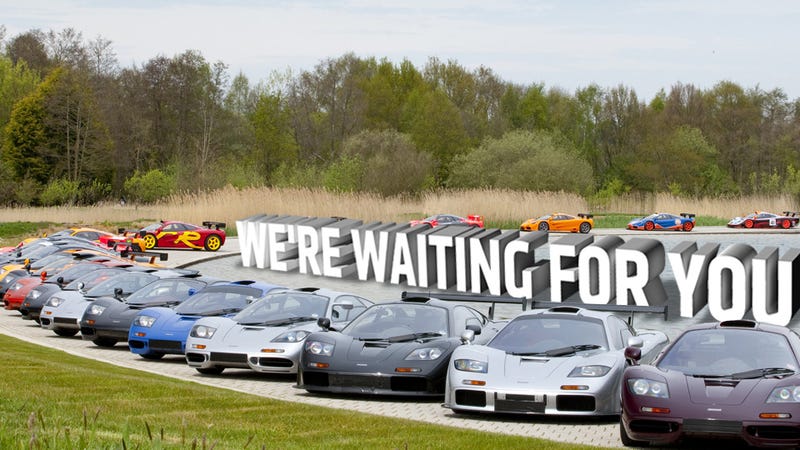 Those of you who read other Gawker sites probably noticed a new discussion system that breaks with the chronological system you've become acquainted with. We just launched it on Jalopnik. It's going to be great.
I think we have one of the best communities on the web, but it's far from perfect. Great points are often buried. Our "star" system, which elevated some of our best contributors, also made other readers feel like second-class citizens. Readers also have had no control over their own discussion threads.
Our new system — we're calling it Kinja — fixes most of these problems. It's different, for sure, but so is a McLaren F1. Sometimes different is good. Here's how it works
You Are The Driver
At best, you've all been hilarious and insightful passengers on this long road trip we've been on. Now you're behind the wheel. Each time you start a new thread you have the ability to dismiss replies, this will keep out unwanted non-sequiturs and trolls. To dismiss someone from the conversation, just use the "x" dismiss button ("A" in the image below). You can start a new thread for the post by clicking the "REPLY TO THIS POST" button ("B" in the image). If you want to see more threads just click on people's avatars ("C" in the image).
I often send people links to brilliant Jalopnik comments, but it is in no way intuitive or easy. The new system has a simple share button above for sharing threads. Tell your friends.
No More Black Flags Or Stars
The star system was a fun experiment but it's now gone. This doesn't mean you won't be rewarded for being a stellar contributor, just that you'll earn that reward from the response of the community and not the attention of a moderator or editor. The same goes for banning. No more banning. You can be dismissed, but you can still comment on other posts and still see your comment.
No More Pink Slips
You do not have to be approved to show up anymore. The pink comments are gone. We still require a third-party verified account (info on converting your account right here) if you are one of the few remaining contributors not to sign up with Google, Facebook, or Twitter.