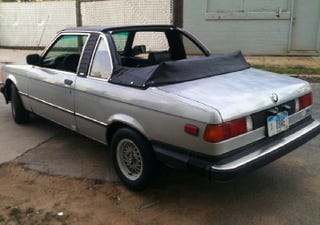 Following the 2002, the E21 3-series was seen as a lackluster successor, especially in its 4-cylinder only U.S. guise. Fortunately today's Nice Price or Crack Pipe E21 is said to carry the silky smooth 323 motor, and more fortunately, the rare Baur targa top. Will its price however drop it back to traditional levels of E21 want?
Flexibility is a forte - well, outside of present day politics it seems - and the Baur targa conversion as applied to BMW's small series, provide a compulsive obsessive's nightmare of options for top positions. Cutting the roof off of a car not originally intended for topless duty is a Pandora's box of problems, everything from replacing structural integrity to figuring out how to seal formerly framed door glass.
The Baur conversion solves a lot of these problems by being - to abuse the parlance of The Princess Bride - only mostly convertible. The 3-series retains its fully framed door windows and has new, smaller fixed glass behind a substantial and ribbed for her enjoyment targa bar. To that is mounted a removable center section and fold down soft section in back, just like the Lancia Zagato.
Unlike that rusty italian (take my word for it) the Baur E21 was never officially offered here in the States, nor was the 3-series available here with the 140-horse 2,316-cc six cylinder, an engine that transformed the E21 from four banger snooze factory to engaging rump shaker. This 1982 metallic grey E21 brings both of those foreign exchange students to the mixer, in a car that most likely won't have to sit with Mohammet. Jugdish, Sidney and Clayton.
We've had a 323i here recently, although that car didn't let the sun shine in. It did rock the Euro bumpers, a feature sadly lacking on this one. Instead today's car carries the scarlet letter of massive park benches front and rear. The Baur top looks complete and mar-free, both the targa portion and the foldable rear section, which from the rear gives the car a bit of a Batman appearance when covered with its tonneau. No interior pics leave that realm a mystery, but the E21 interiors typically suffer from seat and door panel wear and tear as well as more dash crack than Bobby Brown's limo.