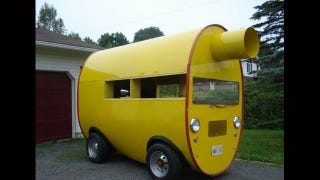 Most people can appreciate the beauty of a vintage Jeep. They aren't beauty queens or speed demons, but it seems hard to argue with their utilitarian charm.
The 1948 Willys Jeep CJ2A you see here likely still has some of that charm, but it's now hidden underneath a custom muffler body.
We've examined the Mufflermobile phenomenon before but this one, currently listed on Ebay, manages to stand out even in the world of vehicles that look like mufflers.