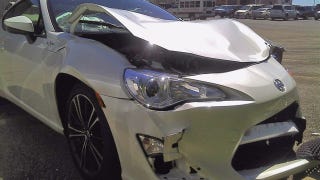 While most people are still waiting for their Scion FR-S it appears from these pictures someone has already managed to crash one. It's official—the wait for the inevitable first FR-S crash is over.
After the hype and speculation surrounding the Toyota GT-86 concept from it's introduction, we're finally finding out what we've really wanted to know about the Scion FR-S as they slowly trickle into dealer showrooms.
The FR-S can drift, we'd call it a true sports car and, as one FT86 forum member discovered the hard way, without traction control the cars 200hp and 150 lb-ft of torque is enough power to get someone not used to a RWD car in trouble.