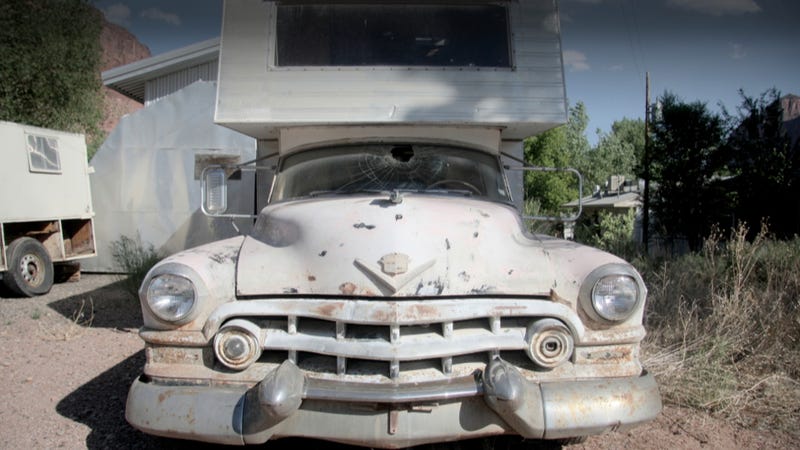 It's common knowledge that Cadillac cars were once refitted to serve as ambulances (and still bring out the dead as hearses). But did you know that an Eisenhower-era custom shop once turned Caddys into RVs? "Lefty, find us a KOA near Vegas, ya friggin' mook."
I happened upon this one after visiting the Gateway Auto Museum in Middle-of-Nowhere (Gateway), Colo. It was sitting in front of a diner in an out of the way corner of the state that was once a uranium mining boomtown, and is now a shriveled clump of weather beaten trailers and small houses next to a resort built by Discovery Channel magnate (and classic car collector) John Hendricks. It's a quiet town with not much going on, but the surrounding red rock palisades are stunning.
This '53 began life as one of Cadillac's hearse/ambulance chassis models, modified to its current, more livable shape by some oddball genius. It's powered by the original 219 hp 331 cid V8, a column shifted 3-speed manual transmission, and a longer than normal 157-inch wheelbase (the sedans have a 126-inch wheelbase). Plus it looks cool. I've definitely seen weirder looking RVs in my travels, and was pretty stoked to learn that there are a few of the Superior and Miller-Meteor platformed RVs out there still.