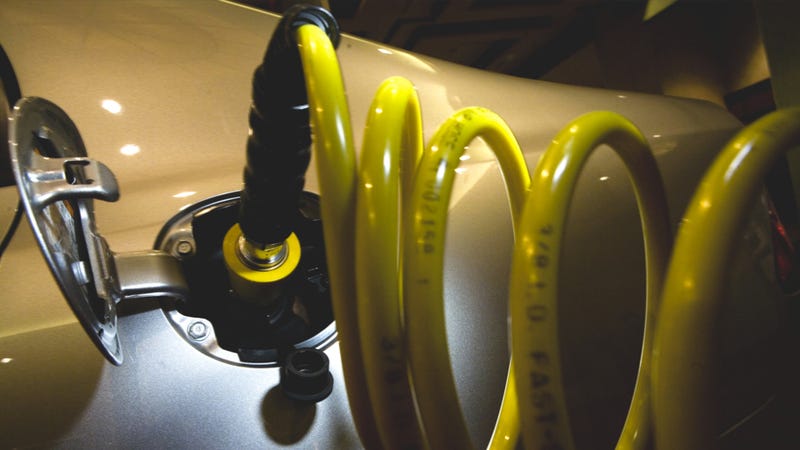 America is in the midst of the biggest energy boom since Texas' 20th Century Gusher Age. All over the country, new drilling techniques have created an abundance of cheap natural gas. With domestic production at more than 25 billion cubic feet per day, prices are as low as they've ever been.
So why aren't we all driving natural gas powered cars like Iran, Pakistan and Argentina, the world's top natural gas vehicle (NGV) users? I tried out a natural gas-powered Ford F250 last month, asking myself the same question. Here's what I found out.
Even if it seems to make little sense that we're still using foreign oil when there are thousands of trillions of cubic feet of natural gas sitting in shale below the U.S. of A, there are at least two strong reasons why we aren't using more of it. First, no one (well, except maybe T. Boone Pickens, but he was mostly just talking) has stepped up to the plate to take on an entrenched oil industry by investing in natural gas infrastructure. Oil still makes people money. That's the market side of things.
Then there's the part that has to do with human health, the environment, and a little bit of math. Gas companies say drilling is perfectly safe, and while it may not be the worst thing we've ever done to get fuel, there are more and more cases of drilling harming the environment and affecting people's health. Plus, when we begin crunching numbers, it raises a big question: is natural gas actually that cheap to produce? It uses a lot of water, and with no pipeline infrastructure, transportation costs money and adds to air pollution.
As you know, we at Jalopnik love our cars and trucks, but we also like to think about what driving will look like in the future. Because, as we've all seen in recent years, even the coolest car doesn't do you much good if you can't afford to fill it up. But if we can get cheaper fuel without making ourselves sick, and build cars and trucks that run on it without breaking down, we might have something.
America's got gas
Compressed natural gas (CNG) use in passenger vehicles is already widespread in parts of the world where the fuel's lower cost drives motorists to have their cars converted. As of 2010, countries in Asia and the Pacific have increased NGV use by 42 percent since 2000. China and India have the fastest growing fleets there, but Latin America's CNG use is also on the rise, and in Europe, Italy has been using NGVs since 1930. The Mediterranean nation, not often known for being cutting edge in anything other than race cars, fancy shoes, and political scandals currently has more than 700,000 NGVs on the road compared to America's 120,000 or so.
Here in the U.S., we don't tend to like drastic departures from the status quo. Natural gas has expanded in more or less unnoticed ways — it's replacing coal in a lot of electric power plants, and has made its way into many U.S. cities' bus and municipal truck fleets. This is a good thing. The U.S. Department of Energy says natural gas burns much cleaner than coal or oil — producing about 70 percent less carbon emissions — and estimates that replacing 3.5 million oil-burning heavy duty vehicles (trucks) with CNG-powered ones by 2035 would reduce oil consumption by 1.2 million barrels per day. Score one for the "we're too dependent upon foreign oil" crowd.
Oil prices have risen over the past several months. Have you noticed at the pump? I have. It costs more than $40 to fill up my old crapcan '80s Subaru. Natural gas, on the other hand, is cheap and plentiful. But the glut of gas on the market from so much drilling has caused a couple of problems. First, its price has dropped so low that energy companies are turning back toward oil, and profit. Second, there isn't enough space to store it all because we haven't invested in pipelines and storage tanks.
The question of whether or not natural gas is actually cheaper than oil depends a lot upon who you're asking for numbers. With a huge supply sitting right beneath our feet, it's easy to say NGVs are the way to go. Well, until you start considering the real cost of production. As it stands now, most natural gas is transported by tanker trucks — a lot of tanker trucks. Trucks are also used to carry the water used in the hydraulic fracturing process, which involves pumping a high pressure mix of mostly water and a cocktail of chemicals that help break up shale to release tiny gas bubbles. Most fracked wells use a few million gallons of water each to get gas out of the ground. According to Pro Publica there are 424,216 gas wells in the U.S. (click on their interactive map to find out how many are in your state), and many are in remote locations reached by long stretches of desolate highway. That's a lot of fuel used and truck exhaust spewed into the air.
But transporting oil from overseas also costs money. Daniel Whitten, Vice President of Strategic Communications at Washington, D.C.-based America's Natural Gas Alliance, said, quoting more DOE stats, that because 98 percent of the natural gas used in the domestic market comes from North America, it could be used to reduce America's dependence upon foreign oil, which would in turn cut shipping costs from wells half a world away. It's a popular argument in his circle.
Daniel Lashof, director of the Natural Resources Defense Council's climate and clean air program, suggested that as far as cars and light trucks go, American natural gas would be consumed more efficiently by using it to produce electricity that would then power electric and plugin hybrid vehicles.