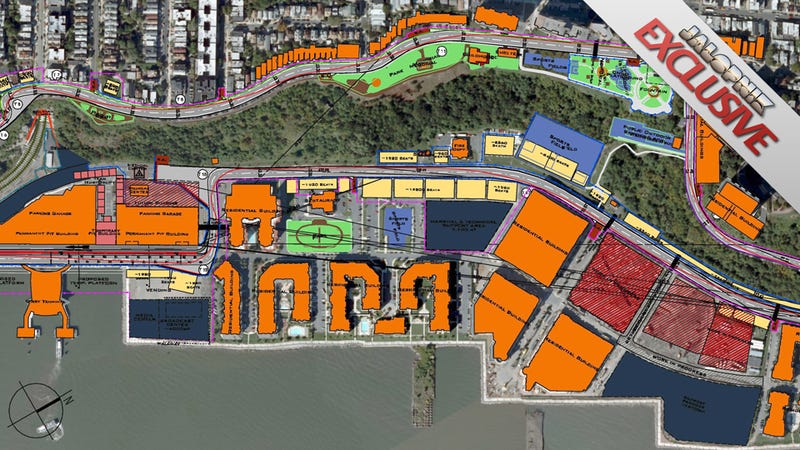 A new leaked document reveals the exact layout and plans for the next Formula One circuit, the Grand Prix of America in New Jersey. The map explains some of the many challenges in bringing F1 to the New York metro area.
You can view the master plan in full here.
The track runs clockwise, starting along the Port Imperial Ferry Terminal on the Hudson in what will be the pit straight. The cars make a 90 degree left for Turn One, then quickly transition into the right-handed Turn Two. The cars then turn up to the great feature of the track: the Palisades.
The Hudson is banked on New Jersey by this massive rock formation — up past the George Washington Bridge, it forms a sheer cliff of exposed rock looking down on the river. Down at the track, it accounts for 150 feet of elevation change. Elevation change, traditionally, is what makes a track great and it has been seriously lacking from Formula One circuits built in the past fifteen years.
Surprisingly, the same man who designed this "Port Imperial Street Circuit" in New Jersey is also responsible for the incredibly dull racetracks of Malaysia, Bahrain, Singapore, Valencia, Abu Dhabi, and Korea. His name is Hermann Tilke and he has been the bane of Formula One fans for the past decade and a half, constantly designing tracks that sacrifice challenging turns and opportunities for exciting racing in the name of safety and clean views for television cameras.
The general layout of this track isn't news; last October, we got a clear view of what the track will look like at its opening presentation and we've driven the route itself.