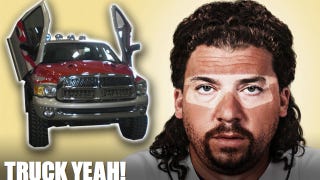 If you want it, Kenny Powers' custom 2005 Dodge Ram from the third season of Eastbound and Down is up for grabs for the low, low price of $15,000. Strangely, it didn't sell on eBay last week, so it could still be yours.
After the eBay auction ended last week, there were no bids on this remarkable iconic piece of white trash automotive history, even after NBC's Wilmington, N.C. affiliate put out the good word on their website.
In real life, the truck is owned by Justin Masters, a Wilmington resident who worked on the set for the show's first three seasons. Eastbound star Danny McBride noticed him driving it, and recognized in its Guy Fieri-esque flames and Lambo-style doors the kind of ostentatious charm that jived with Kenny Powers' milieu.