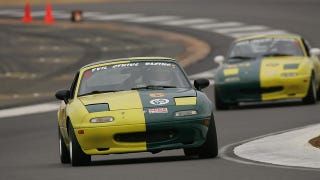 Evil Genius Racing is a shop in West Sacramento that specializes in building Spec Miatas and has some fame for preparing a good number of LeMons racers. The evil genius himself, John Pagel, is worth a story or two.
He gave up driving racecars regularly about five years ago, but he started racing a showroom stock Ford Fiesta back in the early '80s, eventually rolling something like five times at Portland International Raceway. Forgiving him the rollover, he had a really wonderful quote about the difference between competing in a racecar and driving a road car.
I feel safer on the racetrack than I do on the highway. On the track I'm surrounded by professionals, but on the highway everyone's going 70 with no idea what they're doing.
When we asked, how to become a better at driving, reader Jstas questioned whether it's even good at all to mix up what happens on the racetrack and what happens on public roads.