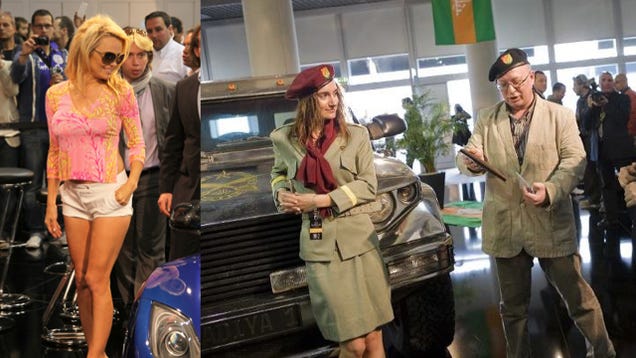 Sasha Baron Cohen's new flick The Dictator features the titular character driving around in a gold-plated armored SUV built by the Vodka enthusiasts at Latvian truck-maker Dartz. To celebrate the tie-up, Dartz announced a $750,000 version of their battle truck called the "Gold Aladeen Edition" after Cohen's fictitious dictator.
The SUV won approval from none other than Pamela Anderson at Monaco this weekend — no short feat given her attitude towards Cohen and Dartz.
There's a lot to digest in this story, so I'm going to start with the email I received from Dartz's "Leo F. Yankelovich" under the subject "piece - whale penis saga finished."
Hi Jalopnik,
Dream of Borat Sagdiev & Leonard F. Yankelovich visited top marques monaco show...
PIECE!!!
as You may know every who will buy DARTZ Aladeen Edition have to make sex with General Admiral Aladeen.
So - the car is professionally approved :-)
Save The Whales!
Live from Top Marques Monaco :-)
Ok, how to translate that?
Dartz famously offered a $1.5 million SUV that featured authentic whale penis leather. Actress Pamela Anderson complained on ethical grounds, causing Dartz to cut the idea short (they love Pamela Anderson).
Cohen, as Borat, stalked Pamela Anderson in the film of the same name. She was clearly in on the joke, but until now it wasn't clear how much Anderson cared for the insane Latvians who keep putting her in their emails.
Anderson was apparently at the Top Marques in Monaco this weekend, which is a car show for the most excessive and expensive cars in the world. She seems to have stopped by the Dartz booth, causing no shortage of laughs and erections.
It was there they launched the Aladeen Pombron. Here's the full press release from The Republic of Wadiya announcing the new vehicle. We're including it here in full because it's hilarious: