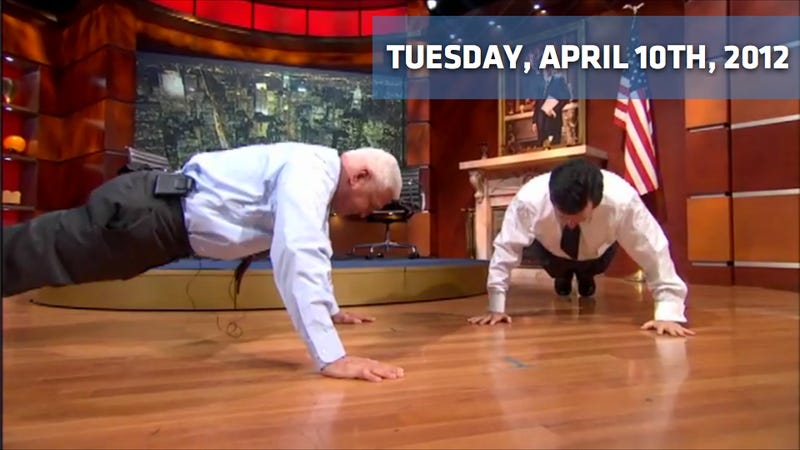 This is the Morning Shift, our one-stop daily roundup of all the auto news that's actually important — all in one place at 9:00 AM. Or, you could spend all day waiting for other sites to parcel it out to you one story at a time. Isn't your time more important?
---
1st Gear: Bob Lutz Kicks Stephen Colbert's Weak Ass
If you missed former GM Vice Chairman "Maximum" Bob Lutz on The Colbert Report last night for his rematch of his first interview with Stephen Colbert during the Carpocalypse, you should kick yourself. Mostly because it means you missed Stephen Colbert get beat by an 80-year-old former GM executive in a push-up contest. We love you, Bob. Luckily, the clip's online, so head over to the Comedy Central show's website to watch Bob dish on the Volt, Mitt Romney, and his new book. Also, the push-ups.
---
2nd Gear: 2013 Stage 3 Roush Takes Mustang To Such Great Heights
Roush's latest creation is this — the 2013 Stage 3 Roush Mustang. Under the hood is a standard 5.0-liter V8 engine with a 2.3-liter Eaton TVS Roushcharger with all-new intake manifolds, intercooler, and radiator. The strap-ons help bring the already potent 420 HP, 390 lb-ft o' torque up to an amazeballs 565 HP and 505 lb-ft o' torque-y goodness. To help make sure the extra power charged out of the standard 5.0 block doesn't go to waste, the new Stage 3 has what they claim is a "sport-tuned" and lowered suspension. And — to help make sure you look like you're driving a Roush — there's all sorts of make-pretty bits n' baubles to complete the package. All this can be yours for the simple fee of just $16,500 for the full kit — including the three-year, 36,000-mile warranty from Roush. More photos here.