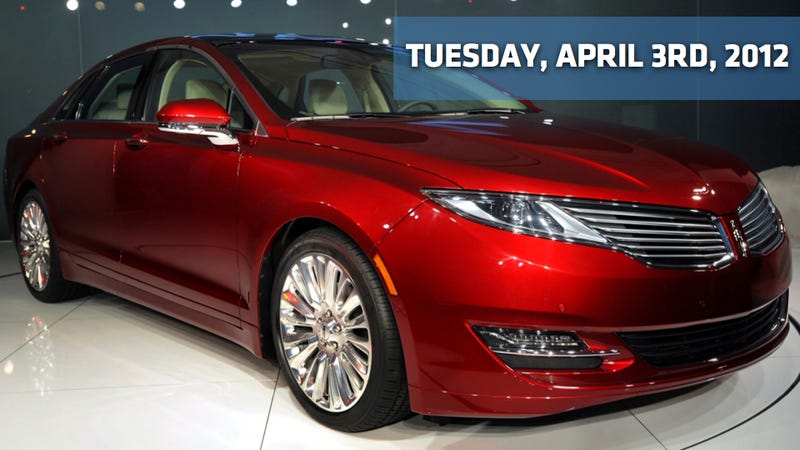 This is the Morning Shift, our one-stop daily roundup of all the auto news that's actually important — all in one place at 9:00 AM. Or, you could spend all day waiting for other sites to parcel it out to you one story at a time. Isn't your time more important?
---
1st Gear: Lincoln Will Buy You Dinner If You Would Just Please Drive The New 2013 MKZ
Ford Chief Marketing Officer Jim Farley and Ford President of the Americas Mark Fields want you to drive a 2013 Lincoln MKZ so badly they're willing to buy you dinner and give you a free 48 hour test drive of the new "luxury" sedan from FoMoCo's blue-haired brand. On top of that, they also plan on running a 24-hour online concierge service to buyers. The news came yesterday as Lincoln unveiled the new 2013 MKZ midsize sedan at a press event ahead of the New York Auto Show. While Farley and Fields are fully willing to hand over their credit cards to wannabe buyers, we're waiting to see whether CEO Alan Mulally's willing to lend his two partners-in-Lincoln-crime the corporate charge card to do anything more than Camry-ize the MKZ.
---
2nd Gear: Every 1-Series M Coupe Has Been Spoken For
Car&Driver reported yesterday that your window to buy one of today's coolest cars has closed: BMW's no longer taking orders for the 1-series M coupe. Production will continue until summer, but all cars are spoken for. The awesome rear-driver will then make room in BMW's Leipzig plant for new derivatives of the 1-series. There's still some hope we'll get a car like the 135i M Performance concept unveiled in Geneva. That screamer would be powered by the single-turbo N55 engine. It'll have to do.
---
3rd Gear: GM To Kill Chevy Volt Production For Extra Week In July
General Motors plans to halt production of the Chevrolet Volt at its Detroit-Hamtramck plant for three weeks in July, instead of the traditional two-week shutdown. "This is (a) normal part of business as managing to market demand," GM spokeswoman Michelle Malcho told the Detroit Free Press in an e-mail. Volt production has been idled for a five-week stretch through April 23 because sales of the plug-in extended-range electric vehicle have sucked. That said, Malcho confirmed that GM sold more than 2,000 Volts in March. We'll find out how many more when sales figures are released this morning.