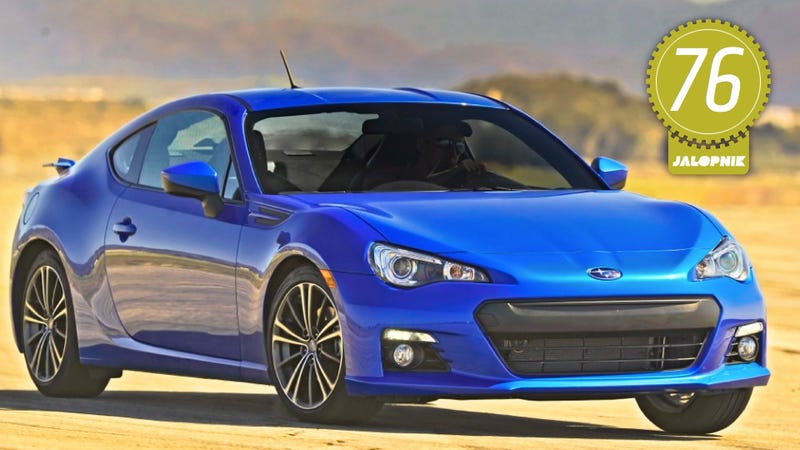 The Subaru BRZ is The Car We Demanded, Well Actually The Other Car We Demanded After We Demanded The Cadillac CTS-V Station Wagon But Who's Counting Demands? It's got a lot of good, but is it as good as we'd hoped for? We found out.
(Full disclosure: Subaru wanted us to drive the Subaru BRZ so bad, they flew me to the south of France, put me up in a swank hotel within view of a marina reserved for mega-yachts, and then set me loose on the awesomely curvy La route Napoleon. For the day of driving we got, I'd have been just fine sleeping at a campsite next to a landfill full of reclaimed duck fat.)
It's an automotive concept that's been scarce for years: a lightweight, rear-drive coupe with the coltish charm of a crisply tuned hot hatch and the polar moment of a supercar. One that doesn't cost Porsche money, or even Lexus money, or even Camry money. The good news? Subaru hasn't just built it, they also delivered on the promise of it. And considering how many page inches this car drew in the lead up to its release, it's shocking that it even approaches the hype.
First things first. Yes, the BRZ is slow. Considering how much quickness is available on dealers' lots today, it's tough to countenance the Subaru BRZ soaks up seven seconds to 60 mph. Yet, never in the recent history of the automobile has straight-line speed been so inconsequential to the experience of driving a great car.
The key is a minimum of compromise, and a simple, unimpeachable reason to exist — to be light and fun to drive. With such a reductive design brief, development engineers apparently spent more time on tuning runs at the track and canyon instead of sitting bleary-eyed at the CAD machine designing in wicked damping and anti-roll gear to manage colossal weight-transfer forces. (Cadillac CTS-V, we love ya, but — you know – you're quite the science project.)
The result is a car that rewards good driving skill but doesn't demand it; a car for a driver who wants to be better, but also wants to enjoy getting better. It's a car anyone can fling into a corner, lay on the throttle and power out, laughing all the way.
No other new car going for anywhere near $25,000 (other than, perhaps, the BRZ's Scion cousin) communicates this well and responds this well to a driver's commands, without ever feeling snappish or pushy. It's all about mechanical grip, too — as if the multi-mode traction control exists merely as a wry wink to the safety police. The BRZ is so well balanced and predictable it feels safer in the "mostly off" setting. When was the last time you could say that about a car?
If you haven't already popped a bottle of Champagne and done a victory dance of wide hip-swings and guttural farmyard noises to celebrate the BRZ's existence, you don't deserve what else on this platform the company has up its sleeve. And we're sure there's more to come.
The BRZ's design, courtesy of Toyota designers, is bit fussy for my own taste. Still, it does have a low hood and pleasingly short overhangs, and shares some basic curves with the Maserati GranTurismo and other, more classical GTs. Those include prominent over-the-wheel arches, rising sidelines that meet and mingle with the falling roofline — forming a conflux resembling half an eye of Nefertiti at the C-pillar — and a pleasing ratio of windshield rake to rear slope.


INTERIOR (8/10)
Tidy and ready for adventures, the BRZ's insides don't hassle you with anything not related to driving quickly and well. There's a readable tach, supportive seats, a comfortably padded and narrow-diameter helm, a snicky shifter and well-positioned pedals. The places you touch the most have the best materials, the places you touch the least, not so much — as it should be on an economy-minded car. Plus, a full-sized adult can fit comfortably in the driver's seat.