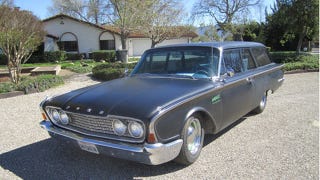 Considering the fact a total of 127,952 Ford wagons rolled off the assembly line in 1960 some would take issue with the idea of calling this Ranch Wagon rare, but when is the last time you saw one of the 27,136 examples of this model built that year?
More to the point, when is the last time you saw one in ready to cruise condition that has been upgraded with maximum drivability in mind?
Unless you've already come across this Ford Ranch Wagon on ebay or you are one of the few lucky people to actually own an example of this one year only design that fits the aforementioned criteria we feel pretty safe guessing it's been a while. Beyond the fact we've always dreamed of owning any 1960 Ford wagon, this car's readiness to cruise wherever whenever really made an impression on us.
This Ford—nicknamed the "Wayzee Wagon"— was originally put together by George Poteet for the 1997 Hot Rod power tour. If Poteet's name sounds familiar it's likely because he's a well known Bonneville racer and has been the bank roll behind quite a few high profile hot rods. Although this Ford isn't anywhere near as wild as some of Poteet's other builds, like most of his cars it was built to drive and is no stranger to the open road.