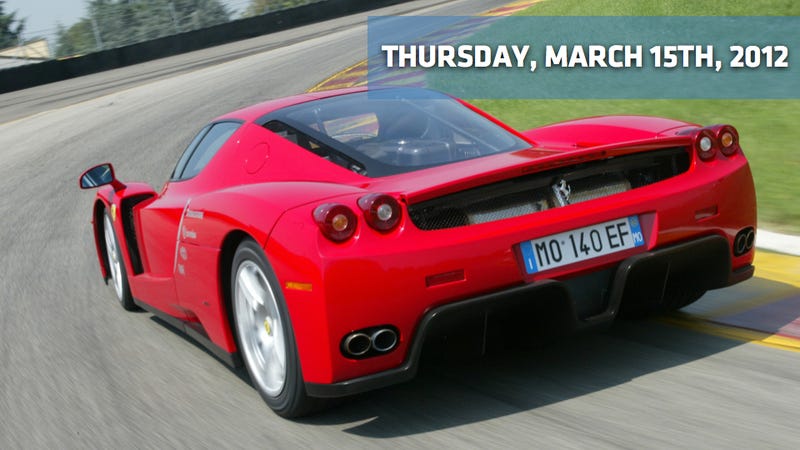 This is the Morning Shift, our one-stop daily roundup of all the auto news that's actually important — all in one place at 9:00 AM. Or, you could spend all day waiting for other sites to parcel it out to you one story at a time. Isn't your time more important?
---
1st Gear: Ferrari Enzo Replacement Set For End Of Year
According to Edmunds Inside Line's Straight Line, before the Ferrari F12 Berlinetta was released to the public, Ferrari flew some well-monied Ferrari owners — well, Ferrari owners with even more money than a "normal" Ferrari owner — to Italy to see and buy the new F12. While there, the Ferrari faithful were shown renderings of an Enzo successor expected to possibly eclipse even the F12's amazing-balls 740 HP. More importantly, they were told to expect the reveal of the new hypercar by the end of this year. I am positively a-tingle with excitement.
---
2nd Gear: Porsche Says Boxster S Pulls Off A 7:58 'Ring Run
If we're to believe Porsche, then the new Boxster S is quicker than a Corvette C6, Viper SRT10 or a C63 AMG Coupé around the Nürburgring, pulling in a time 'round the Nordschleife of just 7:58. That's just 18 seconds slower than the brand-new 2012 Porsche 911 Carrera S, which itself nearly matches the 997 911 Turbo's lap time of 7:39. The last-generation Boxster S took 8:10 to lap the 'Ring. It gives further credibility to our argument that you can now still be a man if you drive a Boxster. It's no 911, but it'll do.