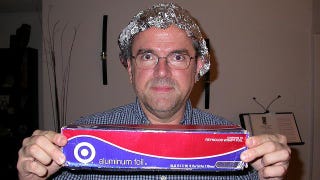 One of the great successes of the Web is the unstoppable propagation of ludicrous conspiracy theories. Used to be that in-jokes like the Church of the SubGenius and the tales cooked up by bored John Birch Society types and the TimeCube had to pass by word of mouth, but now every twelve-year-old knows about all the ways in which that was NOT Osama bin Laden that got killed.
Don't dispute me, you know it's true. Here, I saw this on YouTube. And watch out for those radio waves.
The trick to a good conspiracy theory is to have it be implausible but impossible to disprove. What, have you been to the moon and seen the Apollo lander bases? Are you sure they don't have prayers to Cthulu during Federal Reserve meetings? What Vatican blood debt would make Ferrari forsake its long-honed ultimate performance image to build a fat-assed boulevardier?
So while Ferrari's California may play mostly to theorists, it also attracts the occasional numerologist — like Klic — as well: