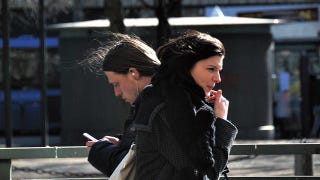 Sometimes relationships are wonderful, enduring, life-sustaining things. Sometimes they aren't. Eventually you get to the point where you just know: it's not working, it's not happening, you're happier spending time away from someone than with them.
That's fine. It happens. Do what is necessary and try to be at peace. Life goes on.
Sometimes it's something else: a slip, a mistake, a moment of weakness. The frailties of this human existence take many forms and have many repercussions. Sometimes we futilely beg forgiveness, sometimes we live under a cloud of shame, sometimes we turn life into a bleak plain of regret as we try to fathom what we have done.
So we can only imagine the guilt still burdening underwear-ninja as he once again faces the reality of his misdeeds against the one he calls his first: