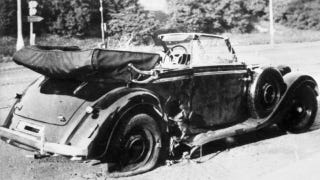 When a pair of British-trained Czech and Slovak assassins attacked one of Nazi Germany's most sinister leaders in Prague in May 1942, they were armed with submachine guns and anti-tank mines. But even these were not enough. To complete Operation Anthropoid and kill Heydrich, Jan Kubiš and Jozef Gabčík needed a little help from the SS-Obergruppenführer's favorite Mercedes convertible and the swarm of microbes in its upholstery.
Reinhard Tristan Eugen Heydrich—that's the kind of name you get when your father is a composer in love with all things German and Wagner—was not your typical Nazi. Then again, who was? There were vain buffoons like Hermann Göring, bureaucratic sociopaths like Adolf Eichmann and then there was Heydrich, who looked like the love child of Tilda Swinton and an alien predator, and became the head of the Gestapo by the time he reached 30, after some tumultous years as a right-wing teenage vigilante and a womanizing navy man. He was a character both terrifying and mesmerizing, and his numerous nicknames included Himmler's Brain and the Blonde Angel of Death.
Heydrich was at or near the top of Nazy Germany's ever-shifting state security and terror services after he signed up with the SS in 1931. After World War II broke out—following a faked Polish attack on German troops organized by Heydrich—he became the head of the Reich Main Security Office, an organization which combined the SS's intelligence wing, the Gestapo, and all sorts of other departments.
In late 1941, Heydrich was sent to Prague as Deputy Reich Protector of Bohemia and Moravia, the industrial part of Czechoslovakia whose factories were vital to the Nazi war effort, producing machinery like tank engines (and, of course, combat snowmobiles). Protector in Heydrich's case translated into the conductor of a wave of terror, earning him yet another nickname: the Butcher of Prague.