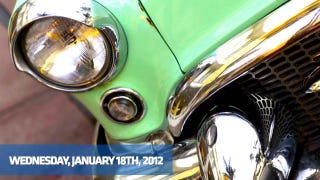 This is the Morning Shift, our one-stop daily roundup of all the auto news that's actually important — all in one place at 9:00 AM. Or, you could spend all day waiting for other sites to parcel it out to you one story at a time. Isn't your time more important?
---
1st Gear: Your Car Is So Old…
The average age of cars and trucks in the United States hit 10.8 years, making it the oldest fleet ever recorded by analysts at Polk. This is way up from 8.4 years in 1996. Per The Detroit News, you can blame the economy and vehicles that no longer turn to useless hunks of metal and electronics after eight years. For some reason we're guessing the average age of Audi/VW products is a little lower.
---
2nd Gear: What's Korean For GTI?
I very much want to drive the Hyundai Veloster Turbo. Front-wheel-drive cars can be fun, especially when fitted with over 200 horsepower and nearly as much torque. For the moment, I'll have to limit the fun to Forza 4. To get an idea of how much fun that'll be I suggest you check out this video from Carscoop. An optimist sees one extra door, a pessimist sees one less door.