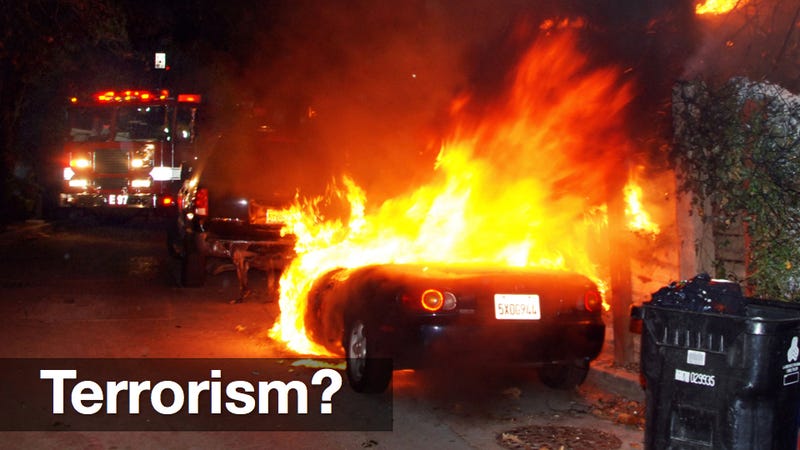 Someone's torched more than 35 cars over the last three nights in Los Angeles area and everyone wants to know why. Are these bored kids? A sophisticated criminal? Or, as one mayor offered, is this an act of domestic terrorism?
The acts of arson started on Thursday night, spread into Friday night, and continued on New Year's Eve with approximately 40 cars charred. Some of these vehicles were parked in apartment complexes, causing significant damage.
As you can see in the map bellow (assembled by the LA Times) the fires are mostly grouped along the northern side of Los Angeles in West Hollywood, Beverly Hills and further north into the San Fernando Valley. There's also one car fire on the south side of Los Angeles in Lennox, which may or may not be related.
No one has claimed responsibility for the this string of fires, but police are looking for a man who may be driving a white-on-tan mid-90s Lexus ES300. They're also offering a reward of $60K for information leading to his/their arrest.
In a similar case last year, the individual responsible for setting fire to over 100 cars in Berlin turned out to be a man upset at his lack of money and prospects, taking out his displeasure with society on expensive cars. As of now the cars set on fire seem to lack any obvious pattern in the SoCal fires, with the vehicles ranging from a Toyota Corolla to a BMW.