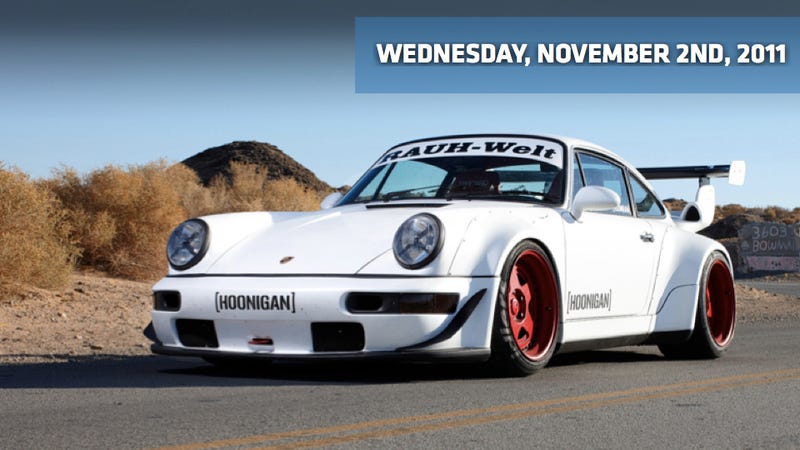 This is the Morning Shift, our one-stop daily roundup of all the auto news that's actually important — all in one place at 9:00 AM. Or, you could spend all day waiting for other sites to parcel it out to you one story at a time. Isn't your time more important?
---
1st Gear: Chrysler Sales Jump 27%, Everyone Else Just Does OK
Most of the October sales reports are in, and the real shock is that Chrysler did well. Three reasons: First, last October's Chrysler sales were pretty awful. Second: There's a ton of new product. The third comes from Reuters: Chrysler spent big time on incentives. At least that last tactic never led to disaster in the past. Oh, wait...
---
2nd Gear: Volvo's Peter Horbury Has The Balls To Design Geely's Cars
Automotive News reports that Peter Horbury is going to head up design for Geely, the Chinese company that bought Volvo. So maybe this means there will finally be a Chinese car company cars that don't look like melted knock-offs of other companies' models. Meanwhile, Volvo gonna need a new designer.
---
3rd Gear: Subaru Reveals Production XV Crossover
It's an Impreza on stilts. We weren't expecting anything different. See more at AutoExpress.
---
4th Gear: Honda's Supercharged a V6 Accord Coupe for SEMA
Oh goodness, Honda's gone and stuffed a supercharged on its V6 Accord coupe. They say the front wheels now are responsible for 335 hp. Everyone likes more horsepower, except when it's done like this.
---
5th Gear: Brian Scotto's RAUH-Welt Porsche Bows at SEMA
One of the first RWB Porsches in America, this baby was built by Nakai-San himself. Scotto — a jack of many trades and the man who rode the Segway in that little Ken Block video with a few million views — drove the car 850 miles to the SEMA show in Vegas. It looks gorgeous.