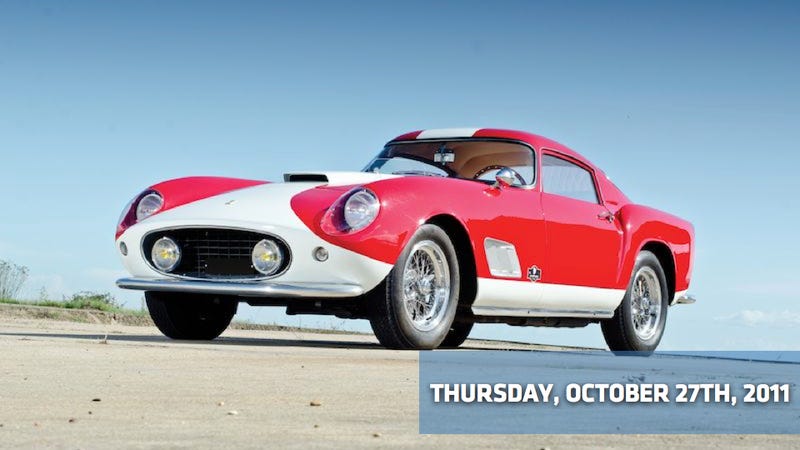 This is the Morning Shift, our one-stop daily roundup of all the auto news that's actually important — all in one place at 9:00 AM. Or, you could spend all day waiting for other sites to parcel it out to you one story at a time. Isn't your time more important?
---
1st Gear: Ford Earnings Go Up, Stock Price Goes Down
Ford reported its tenth straight quarterly profit Wednesday but despite that seemingly good news, its stock price fell 6%. Why? The AP reports that it was in large part because the carmaker decided to hold off on reinstating a dividend to stockholders — something we all expected from Ford after statements to that effect earlier this week. Investors were also irked by slowing growth and rising costs in the company's third quarter. Even though Ford earned $1.6 billion and beat expectations, investors wanted to see more the huge gains from 2010, said David Silver, an analyst with Wall Street Strategies. Ford's profit jumped 70% in the third quarter last year, as sales rose sharply from historic lows in 2009 and buyers snapped up new models such as the Fiesta.
---
2nd Gear: Elon Musk Announces More Vaporware
Autocar reports that next year's Tesla Model S sedan is just the first model planned by the Californian electric car maker in an aggressive vaporware roll-out that includes an all-new Roadster and a range of cars to rival the BMW 3-series. The 5-series-sized Model S will spawn a crossover Model X variant next year, and it's likely to be followed by a convertible in 2013. Tesla CEO Elon Musk also confirmed to Autocar that in 2014 the firm will launch a new Roadster, which will no longer be based on Lotus mechanicals. Although Tesla has made a loss on every Roadster sold, Musk said the car was significant in helping to establish the firm and electric cars in general. "Bob Lutz has said the Roadster prompted General Motors to do the Chevrolet Volt," he said. "We're trying to change the industry." Yeah, good on you to give credit to "Maximum" Bob, but completely ignore the rest of what he says — which is that the "change" is coming from spurring the rest of the industry to act, not to make the damn cars yourself, you fool.
---
3rd Gear: Scion FR-S Unveiled In Toyota Form?
Earlier, we showed you these brochure scans of what appear to be a final production model of the Toyota FT-86 / Scion FR-S may finally show what the real car looks like and end the protracted concept car nightmare parade. Maybe. Sort of. Hopefully. More here.