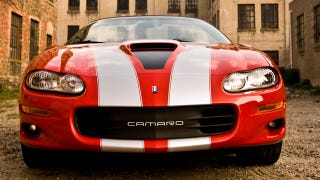 About a year ago, we noted that a Nebraska car collector named Mark Pieloch had been busted on tax-evasion charges. A year later, Pieloch's still fighting those charges — but also giving away five classic Camaros to suppliers of his business.
Pieloch owns Pharma Chemie, a maker of nutritional supplements for animals. To mark his 20th year of doing business with Vedco, a Missouri firm, Pieloch arranged a gift of five Camaros to five of the firm's longest-tenured employees. All of the cars — a 1989 Camaro Coupe, 1990 IROC Coupe, a 25th anniversary Camaro Coupe, 30th anniversary Camaro Coupe and a 35th anniversary Camaro Coupe — came from his collection, and have a value of about $110,000.
Those gifts may be part of Pieloch's apparent plan to move his family and business out of Nebraska. In a recent letter to nearby businesses, Pieloch compared Nebraska State Patrol to the Gestapo and Nazi Germany, saying the still-pending charges had cost him $900,000 in back taxes so far and that state troopers had stolen cash from him. One possible new home: Florida.
Hat tip to thehawkeyegeek!