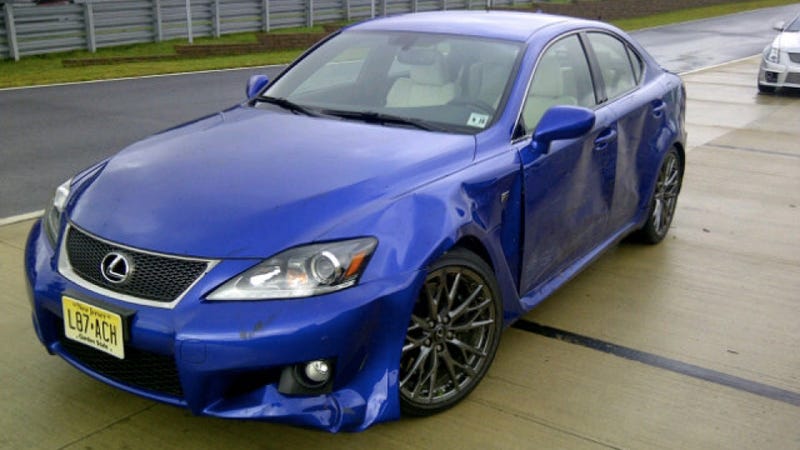 This wrecked Lexus IS F gave its life so you can read about what it's like to drive an IS-F. Oh, wait. No it wasn't. It was crashed because automakers team up with "professional automotive journalist organizations" for these annual drives that only create any journalism when someone wrecks a car.
How would you drive if there were no real consequences? Short of killing yourself or someone else, there's no consequence I can think of for shunting a press car at a track during a drive. Go wild.
While some track-day crashes are just unfortunate accidents, others are the inevitable result of over-privileged "journalists" given free rein over press cars at a track. The kind of "journalists" who show up to a friendly driving event dressed in a full racing suit with their own helmet in tow (that's not a joke, that happened in Texas).
People who think they're invincible because, if they have enough readers, they are.
Right now, the International Motor Press Association (New York NAMBLA) is in the midst of its Fall Rally at the Monticello Motor Club. It's raining, so of course some journalist (a Canadian non-Canadian, we hear) went full tilt into a corner, crashed, and then walked away. Actually, they probably walked over to the CTS-V to go have a few more laps.
Other regional organizations (California NAMBLA, Texas NAMBLA, Midwestern NAMBLA) run these kind of events on a regular schedule. Yet, you only hear about it when there's a wreck.