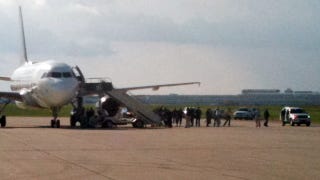 The Beatles were right to say all you need is love, but sometimes you also need a bit of restraint. Like asking oneself: "Is it a good idea to try and join the mile-high club on Sept. 11?" No, no it's not.
A Frontier flight from San Diego to Detroit was escorted by two F-16 fighter jets and surrounded by police when it landed Sunday after crew reported suspicious bathroom occupation by a man and woman. The plane was boarded by SWAT officers with guns drawn, who handcuffed two men and a woman and led them from the plane.
The trio were questioned and released without charges filed, because the pair were "making out," a demure and possibly giggly federal source told ABC News. Given that another flight was disturbed Sunday by drunk bathroom-goers, the skies are getting awfully friendly.