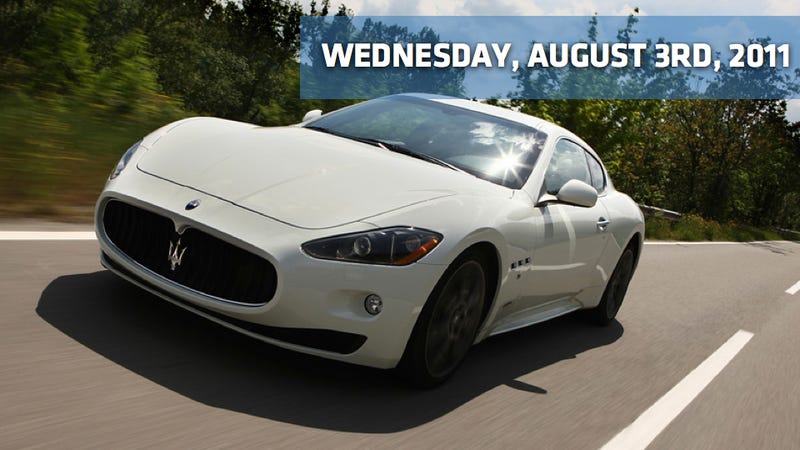 This is the Morning Shift, our one-stop daily roundup of all the auto news that's actually important — all in one place at 9:00 AM. Or, you could spend all day waiting for other sites to parcel it out to you one story at a time. Isn't your time more important?
---
1st Gear: Bloomberg's reporting this morning how Audi plans to introduce its top-of-the line sports cars in the U.S. to enhance the brand's image and charge higher prices as it bids to narrow the gap with luxury-car leader BMW. Audi's 340-horsepower TT RS will go on sale in the U.S. next month, while the 78,000-euro ($111,000) RS 5 coupe, which competes with BMW's two-door M3, will hit showrooms next year, sales chief Peter Schwarzenbauer said in an interview. Audi has a goal of doubling U.S. sales of high-performance cars to about 16,000 by 2015. And as we've always said — bringing in high horsepower, enthusiast-friendly vehicles — is precisely how you do it. Kudos to Audi for doing the right thing.
---
2nd Gear: Fiat CEO Sergio Marchionne claims he seized an opportunity in the U.S. after Renault/Nissan CEO Carlos Ghosn concluded there was too much risk. Ghosn turned down the chance to buy Chrysler in 2008 at the height of the recession, opening the door for Marchionne to swoop in and receive 20% of the American carmaker without paying any cash in exchange for technology and management. "We pulled out because we were seeing a very dramatic crisis happening," Ghosn said in an interview last month with Automotive News. "I still think we made the reasonable decision." Marchionne since then has done everything to prove his rival wrong, pursuing a rapid integration of Fiat and Chrysler that includes using the basic architecture for vehicles across brands, combining top management and sharing factories. Earlier this month, Fiat raised its Chrysler stake to 53.5%, reaching a majority two years earlier than originally planned.
---
3rd Gear: Jim Farley, Ford's head of global marketing, is trying to smooth things over with the folks at General Motors. In a pre-publication excerpt from the book Once Upon a Car by New York Times reporter Bill Vlasic, Farley did some trash-talking about his crosstown rivals. "We're going to beat on them, and it's going to be fun," the book quotes Farley as saying. "F*** GM," he said. "I hate them and their company and what they stand for. And I hate the way they're succeeding." And he added: "I'm going to beat Chevrolet on the head with a bat. And I'm going to enjoy it." But in a meeting with reporters Tuesday, Farley said he had called GM marketing chief Joel Ewanick to a apologize.