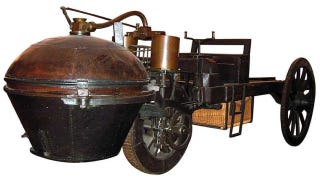 Who invented the first car? If we're talking about the first modern automobile, then it's Karl Benz in 1886. But long before him, there were strange forerunners to the today's cars, including toys for emperors, steam-powered artillery carriers, and clanking, creaking British buses.
Humans have possessed knowledge of the wheel for several thousand years, and we've been using animals as a source of transportation for nearly that long. So, in some sense, the earliest forerunners of the car date back to the earliest mists of our prehistory. But perhaps a more useful way of thinking of the car is anything that could reasonably be called an "automobile" - in other words, any vehicle capable of propelling itself. In that case, we're at most talking about 439 years of car history.
The Emperor's Toy
The very first car might well have been the invention of a Flemish missionary named Ferdinand Verbiest. Born in Flanders in 1623, Verbiest was an accomplished astronomer who left Europe for China in 1658. He helped to modernize the now outmoded Chinese astronomy using recent European innovations, and he was asked by the emperor to become the director of the newly refurbished Beijing Ancient Observatory. What's more, he spoke at least five languages fluently, wrote thirty books, was a skilled diplomat and mapmaker, and tutored the long-lived Kangxi Emperor in everything from mathematics to poetry. He was, even by the standards of the time, ridiculously accomplished.
But the reason why we're talking about Verbiest here is that he might - emphasis on might - have invented the world's first car. According to Verbiest's own text Astronomia Europea, he built a small, self-propelled vehicle. Steam technology was still in its infancy at the time, but Verbiest was able to build a rudimentary, ball-shaped boiler, which then forced steam towards a turbine that could turn the back wheels. Verbiest says the vehicle was meant to be a toy for the emperor.
Considering this is over 200 years before the construction of what's generally considered the first modern automobile, this is a remarkable achievement, but there are some pretty big caveats here. I said the car was small, and it was: about two feet long, far too tiny for any human to ride in it. It's also not at all clear whether the toy was ever built, or if it purely existed as a design in Verbiest's imagination.
We do know Verbiest's close relationship with the emperor gave him access to the finest metalworkers China had to offer, so it's not impossible that he built the toy. What we can say is this - Verbiest almost certainly designed what was effectively one of the earliest scale models of an automobile. (Although, if we're just talking about designs for cars, then Leonardo da Vinci has Verbiest beat by a good two hundred years. But Leonardo definitely didn't build his, so Verbiest has that on him.)
The First Engine
To some extent, 1672 might seem surprisingly recent for the first car ever. After all, we keep discovering far more ancient analogues for modern items, including everything from Babylonian museums to Roman fishtanks. So why haven't we discovered an ancient Egyptian car inside the pyramids, or even some medieval gadgetry that vaguely approximates an automobile?