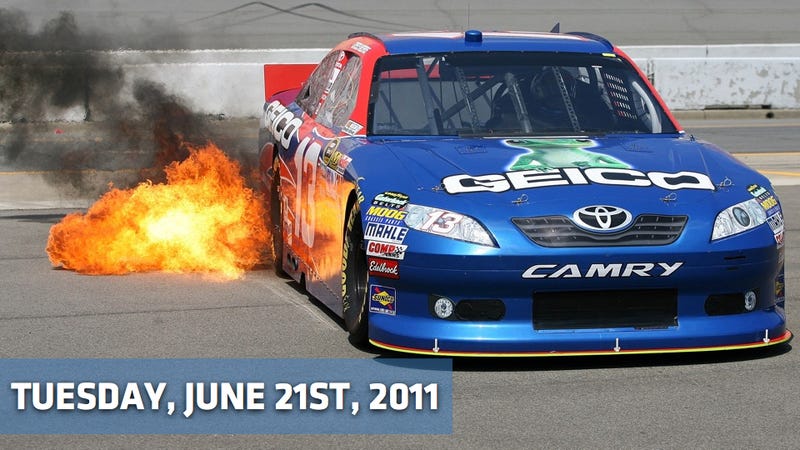 This is the Morning Shift, our one-stop daily roundup of all the auto news that's actually important — all in one place at 9:00 AM. Or, you could spend all day waiting for other sites to parcel it out to you one story at a time. Isn't your time more important?
---
1st Gear: Bloomberg reports this morning that U.S. vehicle thefts dropped to their lowest point since 1967, falling for a seventh straight year as more cars were equipped with security devices and police tactics helped deter thieves, an insurance industry group said. Thefts probably declined 7.2% last year from 794,616 in 2009, according to preliminary figures released today by the National Insurance Crime Bureau. The New York City region, Dallas, Los Angeles, Detroit and Miami were among 257 urban areas reporting fewer thefts, the non-profit trade group said, citing FBI data.
---
2nd Gear: Saab Automobile, the Swedish carmaker that's been forced to halt production because of a cash shortage has asked suppliers to accept 10% of what they're owed now and the rest in September, the chairman of Swedish auto-supplier association FKG said. "I think most Swedish suppliers will accept Saab's proposal," Christer Palm said today in a telephone interview with Automotive News, "Saab's survival is at stake here." Saab's letter to its approximately 800 suppliers also proposes that the carmaker pays them "cash on delivery" for future shipments, about five to six days after components arrive at the factory in the city of Trollhaettan, Palm said. Saab has asked parts makers to respond to the proposal by the end of today, he said.
---
3rd Gear: Chevrolet introduced the Aveo RS concept at the 2010 North American International Auto Show and a new report is indicating the model — now called the "Sonic" — is actually headed for production. GM Inside News reported yesterday the car will closely resemble the concept and feature an aggressive body kit, a revised suspension and better brakes. Also power will likely be provided by a turbocharged 1.4-liter four-cylinder that'll boost output to 138 hp and 148 lb-ft of torque. Wait a second — that's the same engine the Sonic already comes with as an option — and with the same output. How is this newer and beefier? Oh, it has an appearance package. THAT makes sense. The more-faster-but-not-really Sonic could be launched late next year as a 2013 model. I Facebook messaged the head of the program to ask if the report was true. No response yet.
---
4th Gear: Standing before a vault in the soaring depository of the 118-year-old Bowery Savings Bank building in New York, Ford Motor Co.'s Alan Mulally pronounced a global expansion that would have made Henry proud. What came next was a selloff. Instead of giving Ford's stock a pop, his ambitious agenda spooked investors and sent the shares skidding 7% since the announcement to close at $12.94 yesterday. Ford, which reached a 2011 intraday low of $12.65 yesterday, has slid 23% this year, compared with a 1.6% gain in the Standard & Poor's 500 Index. "The last thing the market wanted to hear from Alan was about emerging markets because of the softness in China lately," said Brian Johnson, a Barclays Capital analyst in Chicago to Bloomberg. While he has an "overweight" rating on Ford stock, he isn't counting on the automaker reaching those goals. "A lot of other players have growth plans, too, but the jury is still out on their ability to actually achieve them." It may seem odd that Mulally, 65, was met with so much skepticism. This is the man from Boeing Co. who came to Detroit in 2006 and transformed an automaker that lost $30 billion from 2006 to 2008 into one that made $9.28 billion in the last two years.
---
5th Gear: Autocar reports that the new Mini Coupé — just unveiled fully yesterday afternoon — will be followed by the very closely related Mini Roadster, which is expected to be launched early next year. Later in 2012, BMW is also expected to unveil the production version of the Mini Paceman, which is in effect a Countryman-based coupé. These new performance and driving-orientated models, as well as an expected WRC-influenced version of the five-door Countryman, are part of a concerted effort to attract male drivers to the Mini brand, whose customer base is currently dominated by female buyers. Maybe if they made them more mini-sized? Just sayin'...