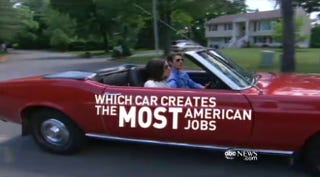 Last week, ABC News set out to show how buyers should care how much of their vehicles were "Made in America." It even set up a website showing how "American" certain models were. Here's how badly they got it wrong.
The problem for ABC News and anyone else who tries to run such exercises — aside from massive indifference — is that the numbers they have to rely on can't show how "American" a given vehicle is. The only source of data comes from a federal law called the American Automobile Labeling Act, requiring automakers to report what percent of the parts by value in any given model hail from both the United States and Canada. As one combined number. Yes, even the federal government occasionally considers Canada America's hat.
That's how vehicles like the Canadian-built Chrysler Town & Country end up with a 80% "domestic parts" figure, while the Detroit-built Dodge Durango scores a 69% (thanks to the Durango's Hemi engines which are hecho en Mexico). The law was written for the United Auto Workers in the 1980s, which wanted to highlight how parts production and jobs were being exported outside the National Hockey League.
It's a point ABC News — which staged a "runaway" Toyota to overhype unintended acceleration — whiffs completely, in a whole series of "Made in America" reports following a family choosing between a Ford Escape and a Toyota Camry. ABC News then tries to perform some data gymnastics involving parts content, all the while touting the Americanism of their choice: