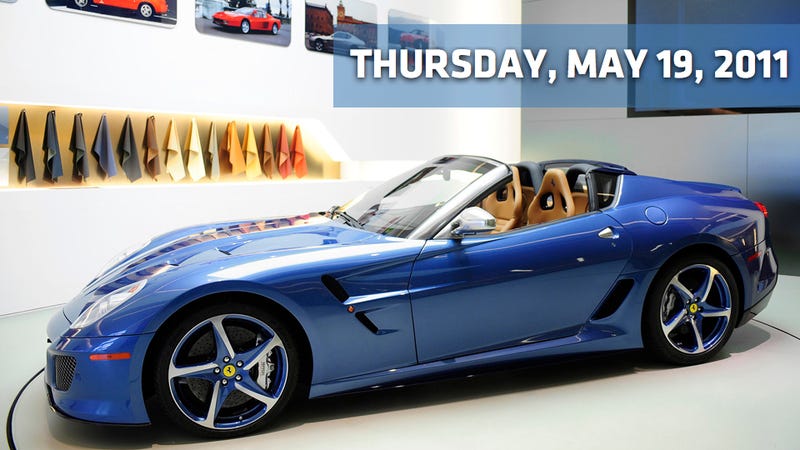 This is the Morning Shift, our one-stop daily roundup of all the auto news that's actually important — all in one place at 9:00 AM. Or, you could spend all day waiting for other sites to parse it out to you one story at a time. Isn't your time more important?
---
1st Gear: General Motors says things are looking so bright for the Chevy Volt, it's going to turn the production knob up to 11 — raising this year's production target by 1,000 to 16,000, and shooting for 60,000 in 2012, up from 45,000. It's also expected to announce its adding as many as 2,500 jobs for both Volt and production of the 2013 Chevrolet Malibu. But the change comes with a downside; the company will essentially be out of Volts for some time this summer while it retools the cavernous Detroit-Hamtramck plant for the additional capacity.
---
2nd Gear: The car above is the Ferrari Superamerica 45, a custom-built model assembled by Ferrari for New York collector Peter Kalikow. Set for a debut tomorrow, the Superamerica 45 was commissioned by Kalikow to celebrate his 45 years of being a Ferrari owner. The design features a carbon-fiber rotating hard-top which incorporates a rear screen. The trunk is entirely new to house the roof when open, and is now in carbon-fiber with design changes to reduce drag and increase rear downforce. The Ferrari Superamerica 45 also features a specific chromed front grille and special burnished aluminium A-pillars, wing mirrors and door handles. To catch a high-res version of the shots, head to our Facebook page.
---
3rd Gear: Ford says it's working with medical device makes to integrate apps and equipment into its Sync entertainment system — allowing drivers and vehicles to monitor or control health problems. The first example that will likely be available in a year or two: An app that would monitor nearby pollen counts, and suggest when to use recirculated air to reduce allergies. Other technologies would integrate MyFordTouch with glucometers so drivers could monitor blood sugars by voice control. "We want to create the car that cares," said Gary Strumolo, Ford manager of vehicle design and infotronics. As someone familiar with diabetes, having a vehicle that could tell when a driver's blood sugar is falling to dangerous lows is a welcome idea — but only if people can actually work MyFordTouch.
---
4th Gear: Citroen will recall 20,000 C3 Picasso cars in the United Kingdom after a BBC investigation found that passengers could accidentally engage the brakes. Turns out that when Citroen switched the cars from left-hand to right-hand drive for Brits, it left the brake cable protected by only a felt cover on the passenger footwell, and can be easily engaged by a stray foot, leading to...la mort de feu! Check the video by the BBC showing just how easy it is to engage. The real problem may be that it was a mistake rather than an option; put a orange pedal on it and call it the Mother-in-Law Brake, and they could probably sell several thousand.
---
5th Gear: Nissan is offering employee pricing and delayed vehicle payments to victims of storms and flooding in six southern states. If you live in Alabama, Tennessee, Georgia, Mississippi, Arkansas and Kentucky, and you can show proof of weather-related losses, Nissan will grant the deals, which could add discounts of up to $1,500 on top of whatever other incentive the company offers.
---
6th Gear: Are you a wealthy resident of Europe, the Middle East or Africa who's in the market for a new private jet? Do you like cars, too? Well then Hawker Beechcraft has the deal for you! Those lucky potentates who buy a new aircraft between now and June 30 will get not just top-shelf air travel but a free Lotus to boot. Hawker customers will receive a Lotus Evora, while Beechcraft King Air customers will receive a Lotus Elise. Whether you're a successful oil heir or a head of state considering new opportunities abroad, getting places will be that much sweeter with a British sports car. Lotus — the car rich people get as a freebie.
---
Reverse:
⏎ Ford China will spend $350 million on a transmission plant. Sorry — not that transmission plant. [Ford]