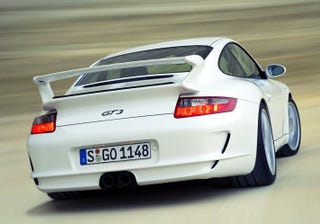 A Porsche GT3 with an automanual transmission? There go those winds of change blowing again. A Rennlist member who's spoken with a Porsche higher-up says the next GT3 will get Porsche's dual-clutch PDK transmission. The consolation prize is 480 horsepower.
Rennlist member and GT3 owner rosenbergendo says he's got the inside track on the next Porsche 911 GT3, which we don't expect for a few years at the least. Still, exciting stuff coming, but only if you're okay with leaving some storied Porsche constructs in the past. Purists may need to recalibrate their Renn-o-sensors.
First, there's the little matter of a long-rumored GT3 RS limited edition. The Porsche source says that model, based on the current GT3 RS, indeed exists, and will homologate the company's 449-hp, 4.0-liter RSR motor, introduced in the company's GT racecar for the 2011 season. It'll be the last GT3 model to feature Porsche's venerable 964/GT1 engine block, which dates back to the days of air cooling.