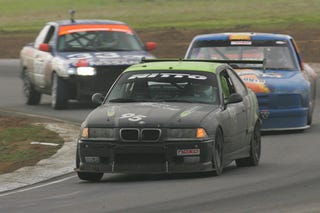 The final race of the 2010 NASA Western Endurance Racing Championship (WERC) season was completed during the first six hours of the 25 Hours of Thunderhill. See which teams came out on top.
After six rounds of competition at different West Coast tracks which included races in the rain, races in the night and even some rain racing at night, here are the teams that won their respective class championships.
ESR Class
Team Green Alternative Motorsports had only two cars in their class all year. They won the ESR championship handily in their number 88 Norma with 650 points after completing 420 laps in 2010.
ES Class
There were ten teams who did battle in ES during the 2010 season. Troy Lindstrom absolutely had to finish second in the season finale during the 25 Hours of Thunderhill in order to win the championship. He did just that. The number 66 blue Chevrolet of Team Super Truck sponsored by Jagermeister won the ES championship by a scant five points (a season total of 650 points) completing 505 laps in 2010 (the most laps of any class in the 2010 series).
E0 Class
E0 had a very tough battle all year long with thirteen cars competing and three of the teams tied for first place after Round 4. But at the 25 Hours of Thunderhill it was the number 61 BMW of Road Shagger Racing who captured the E0 championship with 635 points for the year and 500 laps completed in 2010.
E1 Class
Thirteen cars competed in the E1 class which was won easily by the number 43 Honda Civic of Team Speedy Motorsports. They earned 430 points for the season after completing 288 laps to become the 2010 WERC E1 champions.
E2 Class
Ten cars competed in the E2 class all year and it looked like a BMW may take the championship. But Team Lack of Focus in their number 44 Ford Focus made sure they made every event and clicked off as many laps as possible to win the E2 championship. They earned 475 points after completing 327 laps in 2010.
E3 Class
The biggest class of the WERC series with the closest finishes all year long (sometimes less than fifteen seconds after hours of racing) was the E3 class with 23 competitors earning points toward the championship. Winning the 2010 WERC E3 championship was Krider/Kramer Racing in their 1991 Nissan Sentra SE-R. The team earned 590 points after completing 449 laps during the 2010 season. They won the championship after finishing second in three out of the six races while fighting off a swarm of rear wheel drive Mazda Miatas and BMW E30s. The little SE-R was sponsored by Hoosier Tires, Jim Wolf Technology, I/O Port Racing Supplies, and Circuit Sports.
Jalopnik has been covering the series all season long and the coverage can be seen below:
Series Introduction
Round 1
Round 2
Round 3
Round 4
Round 5
Season Ending Points Battle
25 Hours of Thunderhill