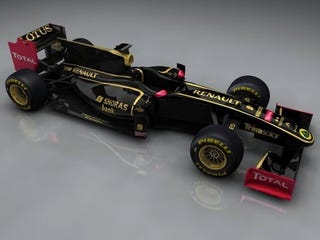 For the 2011 season, a Malaysian team in black and gold livery named Lotus will be joined by a Malaysian team in black and gold livery named Lotus. Don't panic, we've got the org chart.
This morning, Lotus Group has announced that they have acquired Renault F1, which will become Lotus Renault GP for the 2011 Formula One season, racing in Team Lotus's black and gold livery from the 1970's. Those of you following Formula One news will recall that Lotus Racing, one of the new teams which competed in the 2010 season, will also be racing in black and gold and will be renamed Team Lotus for 2011. Before you resort to the services of the Team Lotus crack suicide squad please peruse this chart:
It's a mess, isn't it? Here's the who's who.
Lotus Group
Colin Chapman's original car company, founded as Lotus Engineering in 1952. This was the company that made Lotus's sports cars. It was reorganized many times into subsidiaries such as Lotus Cars and Lotus Technology. In 1986, four years after Chapman's death, the company was sold to General Motors. In 1993, GM sold the company to the Italian businessman Romano Artioli (the current Lotus Elise is named after Artioli's daughter). Three years later, Artioli sold the company to Proton, a Malaysian car company partly owned by the Malaysian government.
Team Lotus (1954–1994)
Colin Chapman's Formula One team, spun off from the sports car company in 1954. This was the Lotus that won seven constructors' championships between 1963 and 1978 and employed drivers like Jimmy Clark, Graham Hill, Mario Andretti, and Ayrton Senna. The team went bankrupt in 1994 and left Formula One without a successor. They were not included in Romano Artioli's 1996 sale of Lotus to Proton. The name Team Lotus was purchased by David Hunt, the younger brother of Formula One world champion and master libertine James Hunt.