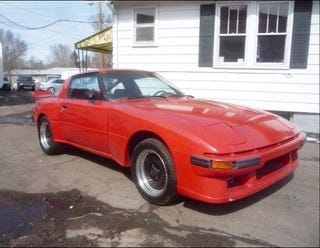 Mickey's Malt Liquor is an acquired taste, but its wide-mouth bottle makes shotgunning them a snap. Today's Nice Price or Crack Pipe RX7 is a wide-body, but will its price and non-runner status leave a bad taste in your mouth?
Mazda was on the ropes in the mid '70s. Sporadic gas shortages ($0.62 a gallon!), and strangling emissions standards made the decision to hook their wagon to the Wankel engine's star seem foolhardy at best, and corporate suicide at worst. They needed a saviour, and just as things seemed to be at their darkest, they found two in both the piston-packing GLC, and the best home a rotary ever had - the RX-7 sports car.
The RX-7's debut came out of nowhere and its position as a cheaper, but just as potent competitor to the Porsche 924 solidified its success. Today's IMSA-channeling widebody '79 RX-7 might be solid, although in its dormant present state, taking it out for a test drive will require downward slopes and a tail wind. Popping the Z-28 be-scooped hood reveals the reason for that, as the 12B rotary powerplant residing there lists aft-ward like Quint's boat after Jaws ate him.
Being a tail-dragger is quaint if you happen to be a Piper Cub, but when you're Mazda drivetrain, it can only mean bad mojo. Not only is the twin-rotor resting at an angle more appropriate for rescuing Chilean miners than sending power back to the GLC-shared live rear axle, but the car's lack of a radiator is going to mean all your Prestone's going to end up on the garage floor. So it's not a runner, but much like last week's project Pantera, this whale-tailed Mazda is rife with possibilities.