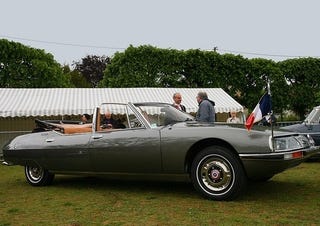 Don't you just hate the French sometimes? To top all those ludicrous meals and silk scarves, their presidents used to ride in a drop-top Citroën SM.
The Citroën SM Présidentielle was created in 1971 for President Georges Pompidou and was in use as a parade car by Presidents Giscard d'Estaing, Mitterand, and Chirac, until retired in 2006. Based on the regular SM, a car which is—in spite of its
flaws—one of the most perfect grand tourers ever made, two examples were built by Parisian coachbuilder Henri Chapron.