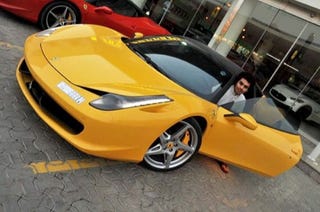 Dhiaa Al-Essa, a 21-year-old engineering student, drives a personal fleet of 30 supercars, including three Lamborghinis and five Ferraris. After getting a Koenigsegg Agera for next year's 22nd birthday, his garage will be worth $12 million. Slack jawed yokels, behold.
Yes, it's not his money. Al-Essa's father, whom we believe to be billionaire Mohammed Al-Issa, 85, has given Dhiaa not just the vehicles but the "070" personalized plates (at $153,000 per) and the resources to spend the summer flying the globe with his friends on driving tours. Once the new models arrive, Al-Essa will have a garage worth $12 million.
The full roster of his collection includes five Porsches, a sprinkling of Rolls Royces and for when he wants to go slumming, a Lexus LS460. To make the Koenigsegg a little less anonymous among the crowd, Al-Essa's father plans to have a key made from gold.
Despite the phalanx of speed and wealth at his disposal, Al-Essa knows the despair life can bring, just like you and I. It was his Ferrari 458 Italia, complete with Dolce & Gabbana interior, that burned at Heathrow Airport in London last month.