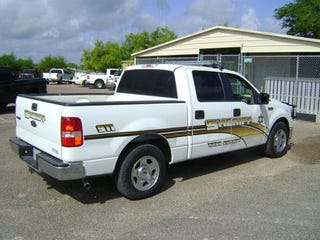 As police officers and other law enforcement agencies equip themselves with a wider array of vehicles, some lawbreakers have found a new tool to perpetrate their crimes: Fake police trucks.
The Ford F-150 above wears the decals of Webb County, Texas, and comes with working emergency lights. Yet something seemed off about it to U.S. Border Patrol agents in June, who stopped a driver wearing a sheriff's deputy uniform. Upon closer inspection, the badge was from a security guard and the cab of the truck concealed 1,000 pounds of marijuana.
Smugglers have long used faked vehicles to move their contraband, from Fed-Ex trucks to Dakar Rally racers. And it's not just cargo that's been hauled this way.