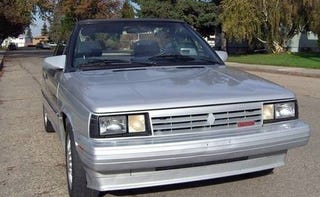 In the movie She's All That, a glasses-wearing nerd girl is turned into a hottie on a bet. Today's Nice Price or Crack Pipe Renault has had a similar transformation, but will its price mean it's not all that?
If your tastes lean more toward Freddy Prinze Jr. than NSU Prinz, you've probably seen She's All That. My condolences. However, like many ugly duckling stories, that movie's plot takes a short cut by starting off with a smokin' hot swan - in this case Rachel Leigh Cook - hidden under a thin veneer of glasses, bib overalls, and a questionable hair style. The job of turning a sow's ear into a silken purse was a lot harder for Renault back in the eighties, as they had much less to work with, and a lot farther to go. Their Alliance couldn't dance, was slow enough for remedial class, and was about as aggressive looking as the math club. In the end, that made the resultant Alliance GTA, as exemplified by this silver 1987 convertible edition, all the more remarkable.
Also remarkable - in that I am prepared to remark on it - was the result of the voting on yesterday's black orpheus 1988 BMW M5. Unsurprisingly, a combination of low mileage, classic looks and a killer rep overshadowed a high dealer price and and even higher potential for eating more of your checkbook, giving the hot E28 a cool 55% Nice Price win.