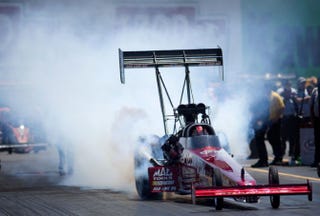 Eyeball-rattling grunt and cars launched by the hand of God: Drag racing is one of the most awe-inspiring things on wheels. Wired.com's Chuck Squatriglia recently took a closer look at Top Fuel racing — the pinnacle of the sport. —Ed.
There is nothing subtle about drag racing.
It is a sport of extremes, from the unconscionable amounts of fuel consumed to the unfathomable amounts of power produced to the ungodly sums of money spent in the singular pursuit of maximum acceleration.
Nowhere is this more obvious than on the starting line, when two top-fuel dragsters unleash 8,000 horsepower apiece. Standing behind them is like opening the gates of hell. The air roars. The ground shakes. Noxious fumes wash over you. The cars streak toward the horizon as if thrown by the hand of God.
Top fuel is the pinnacle of drag racing. Even in a sport where success is measured in thousandths of a second, everything in top fuel happens in a blink of the eye. The best drivers can do the quarter-mile in around 4 seconds. They experience about 5 times the force of gravity. And they reach the far side of 300 mph.
As amazing as it is to witness, it is even more so to experience.
"There is no way to describe it. None," Dave Grubnic, the 48-year-old driver of the Kalitta Air top-fuel dragster, told us during the Fram Autolite NHRA Nationals at Infineon Raceway earlier this month. "When you hit that throttle, everything in your immediate field of vision is gone. Just gone. You do zero to 100 mph instantly."
Grubnik's exaggerating. It actually takes about eight-tenths of a second.
To view all of these images on a single, long-loading page, click here.