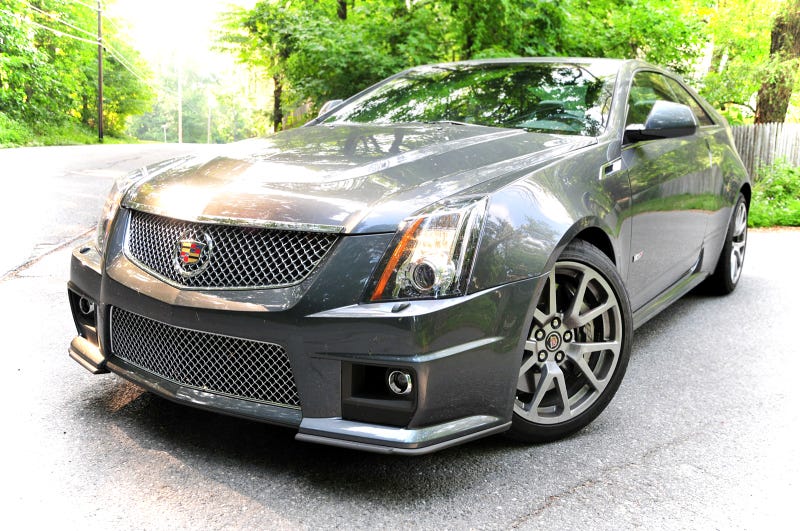 This is a 556-hp, rear-wheel-drive Cadillac. It has two doors, six speeds, and enough grunt to yank the moon out of orbit. It is everything we are supposed to want in an American car. One question: Is it any good?
I have one word for you: Duh.
This is the Cadillac CTS-V coupe. It represents everything General Motors knows about building fast, enticing luxury cars. If you listen to the pundits, it is the most important vehicle to come out of GM in years, if only because it shows that the company is no longer asleep at the wheel, and that someone realizes that Cadillac should be building Truly Awesome Things.
Whatever. Screw importance. This is a big, honkin' two-door with a big, honkin' badge on its nose and a giant supercharged V-8 under the hood. And it has a clutch pedal. You, mister General, had me — had this entire website — at hello.
Numbers, Numbers, Numbers
From a spec-sheet standpoint, what we have here is not new. The CTS-V coupe is a two-door version of the CTS-V sedan, and it shares that car's wheelbase, powertrain, suspension, brakes, and just about everything else. The 556-hp, 6.2-liter supercharged V-8 carries over, as does the choice of either a six-speed manual or six-speed automatic transmission. Driver-adjustable magnetorheological suspension, enormous Brembo brakes (15-inch front rotors, 14.7-inch rears), a limited-slip differential, and 19-inch alloy wheels wearing Michelin summer tires are standard. Compared with the ordinary CTS coupe, a few trim details change — the V gains a tall center brake light that doubles as a spoiler, gargantuan twin exhaust tips, optional Recaro seats, and tweaked interior bits come along for the ride — but these are minor details. At just over two tons, the V coupe is not light, but it weighs 37 pounds less than the CTS-V sedan and 15 pounds less than the CTS coupe.
And Now, the Thing You Probably Want to Know Most
I drove this car six hours before writing and posting this story. Jalopnik contributor John Krewson met me in Manhattan and accompanied me to the wilds of New York state. We ripped over winding pavement, we hammered up a mountain, we thundered down the interstate, and we slogged through traffic. One thing was immediately clear: