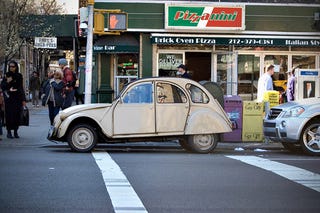 Last weekend, I moved from California to New York City. My wife and I are here until September, subletting a friend's apartment in Manhattan. One problem: Four days in, I'm already in withdrawal — I need cool car stuff. Bad.
Great town, this. I love it. I don't think I want to move here permanently, but I'm a fan. That said, when I left San Francisco — one of the best places in the country to get a daily weird/cool/funky car fix — I knew it would change things, but I didn't realize just how much. To make a long story short, while I'm looking forward to the coming months, I need to dull the pain.
Here's the issue: I've been fortunate enough to spend most of my life riding in, driving, and generally geeking out on wheeled weirdness. I've walked through amazing museums and stumbled around garage mahals the likes of which would shame a Burbank mecca. I spent most of my college years at race tracks. And I've gotten to the point where I need a regular dose.