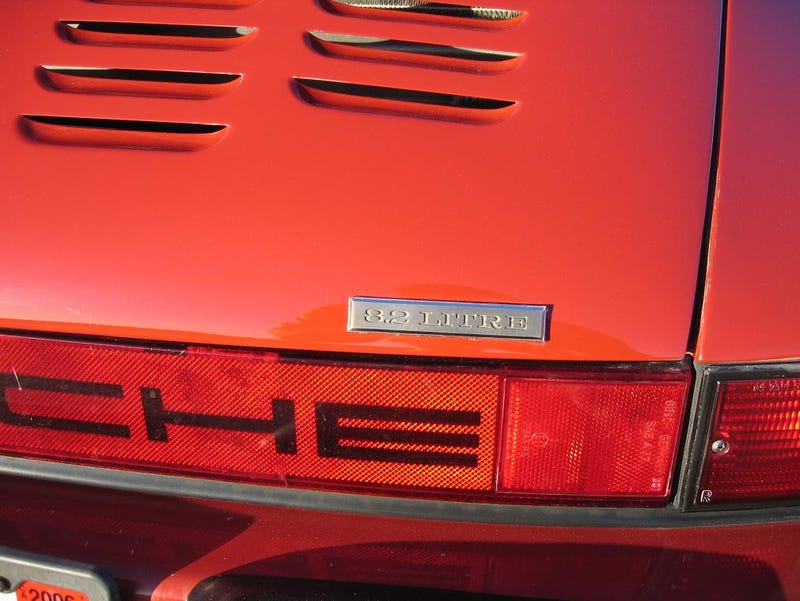 Einstein once described insanity as doing the same thing over and over again and expecting different results. Well, today's Nice Price or Crack Pipe 911 isn't something you're going to see repeated very often, but it is still pretty insane.
Yesterday, the fahrvergnügen flowed freely, but sadly even Subie-man couldn't save the hard rode-looking Type 3 from a 67% Crack Pipe trouncing. Maybe it wasn't condition, or the switch to water cooling, that turned y'all off, maybe the engine was simply in the wrong place. Well, let's see what we can do about that.
Today we have yet another car that, while originally sporting an air-cooled engine, now uses H2O as its cooling medium. Unlike yesterday's VW, this car has had its engine location moved from being dingleburied in back, to just behind the seats. Yes, it's a Porsche 911 Targa, and it joins the 904, 914, Boxster and Cayman in being the road-going midshipmen of the Porsche fleet. However, unlike all of those models, this 911 sports what could accurately be called the Cadillac of engine transplants. That's because it's rocking a pro-built drivetrain out of a '70 Eldorado.
Now, as the 911 has evolved over the years Porsche has added displacement to its flat six, from the 2-litre engine of the type 901 to the 3.8-litres of the modern Carrera 4. Today's 1981 911 Targa is 8.2-litres. This is where Homer would typically say Hoo, hoo, hee, hee. . . Oh my.
If you want to get a feel for how big that is, go down to the Piggly Wiggly and grab up 8 litre-size bottles of Mr Pibb. Yeah, that's a lot of Mr Pibb, now imagine how long it would take you to drink all that. This Porsche no doubt drinks much faster than you do. As crazy as it is, of course this 911 has been seen here before, but not as a NPOCP contender, and today we're making up for that.
The builder of this 8.2-litre Cadillac-powered Targa got the bug as a teenager after reading Peterson's Complete Book of Engine Swapping No. 2, and while number two is what these kind of undertakings usually end up looking like, his effort seems to have been done with prudent consideration as to the usability of the end result. It is, however, insane.
The Caddy motor takes the place of the token back seats, and he's cleverly hidden it with some insulated half-luggage that makes the car look like its just come back from the Queen Mary. Professionally built by Maximum Torque Specialties, the big-ass V8 has been bored, decked and balanced, and sports aluminum heads. Atop each of those sits a custom alloy valve cover with PORSCHE 8.2 Litre cast into it. The transmission is a TH425 that the seller claims could do service in one of those massive GMC motor homes. Despite that use's lethargic nature, he says it's a necessity in handling the torque monster attached to it. As this is a Porsche and not a Mobile Housche, he's installed a shift kit. Power is then routed to custom-built Turbo CVs, and the back-end of the drivetrain sits under a huge aluminum radiator.
Other than the aforementioned faux luggage, the car looks like a stock Targa, with a proper set of Fuchs and a Guards Red paint job. Inside its beige and brown down to the ground, and while it is a two-pedal car, I think the torque that massive motor puts out would make shifting kind of a moot point anyway.
Despite water cooling generally doing a better job in providing passengers with heat, the 911's lack of a heater core under its dash makes it a bit of an issue here, and in fact the seller admits to one of the car's foibles being an inability to keep your pooh toasty on a blustery day. A man with proper priorities, he has had the tach re-calibrated for the big eight however.
I noted up front that this car is kind of insane, and I meant that in the that's just crazy enough to work! sense, and not the you're never alone with a schizophrenic way. But what about the asking price, is that equally nuts? Well, the eBay ad has a Buy It Now of $35,000 which is a lot of dough for an '81 Targa, but might be a deal for a mid-mounted monster, especially one that's kind of stealthy.
So what's your take on the $35,000 for this crazy eight? Is it worth that much, or is this seller like a lonely squirrel and hence f****ing nuts?
You decide!
eBay or go here if the insanely long ad takes too long to load.
Help me out with NPOCP. Click here to send a me a tip, and remember to include your commenter handle.