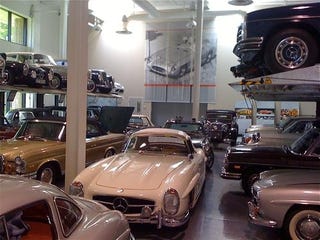 The Mercedes-Benz Classic Center is one of the finest restoration facilities in the world. Vanity Fair's Brett Berk recently stopped by to drive a vintage Gullwing, giving Jalopnik this exclusive behind-the-scenes peek. —Ed.
If you want to see all this on one page, click here.
Last week, I had a chance to visit the Mercedes Benz Classic Center in Irvine, California. There, I got a tour from the manager, Mike Kunz; I also got to wander around, sit in, and fondle some of the hottest cars ever. I even got to pretend I was Imelda Marcos in the back of 600 limousine. Oh, and I also got to drive a 1955 300 SL Gullwing. You can read about my whole adventure in the silly car column I write over at VanityFair.com. But this is a special, exclusive Jalopnik feature that contains many previously unpublished photos.


Brett Berk writes gaily about culture, politics, and cars for VF.com, and is the author of The Gay Uncle's Guide to Parenting. He is a friend of Los Jalops, he once helped Jamie Kitman buy a car, and he famously gave Sam Smith the nickname "Halfie." Sam has not yet decided how he feels about this.