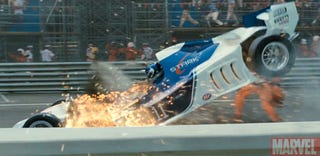 Even for a metal-suited superhero film, Iron Man 2 destroyed an awful lot of cars. The list contains everything from smashed Rolls-Royce Phantoms to formula cars sliced in half by laser whips. Here's how the magic is made.
Thanks to Jerry Garrett of Garrett on the Road and the NYT for help in assembling this feature.
To see this gallery on one page, click here.