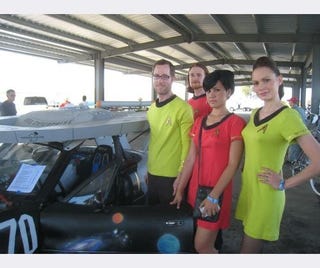 A long, long, long day of inspecting so-called $500 cars for this weekend's Goin' For Broken 24 Hours of LeMons (moved to Thunderhill after Reno-Fernley went bust) has finally been wrapped up, and the car selection is staggeringly good.
I'm totally beat after looking at 120 or whatever-it-was cars, so let's just look at a few high points and then get right to the gallery. We had our first LeMons Jeepney, which was the result of telling the Black Iron Racing guys that the only way we'd let their gutted BMW 540i (yes, it's an E39) get through the inspection with no penalty laps would be as a fully credible Jeepney... which they then went ahead and built! Zero laps.


Remember the Audi that whacked a concrete barrier in such dramatic fashion at Thunderhill a while back? It's all fixed up and looking just like a Group B Quattro. Beautiful!