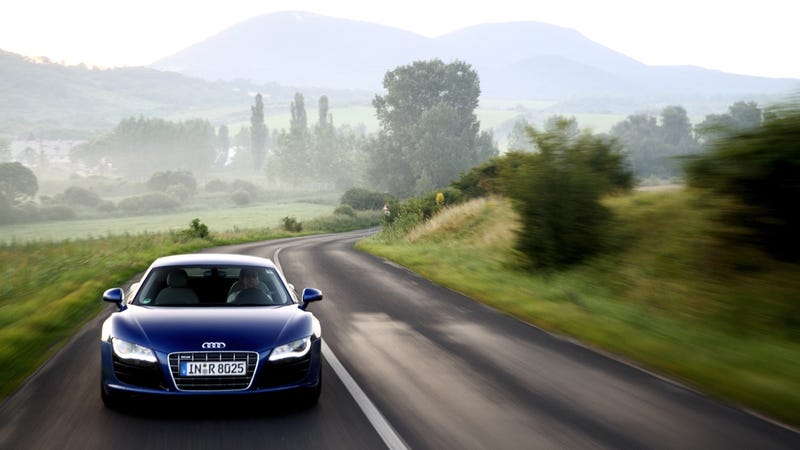 We love our supercars to death. We obsess over their top speeds and great power. But what is it like to actually use one? Over 500 miles of European motorway, we discover an inconvenient truth.
Full Disclosure: Audi flew us from Budapest to Munich and provided us with a rental car to get from Munich to Ingolstadt. They also gave us €300 in an unmarked envelope to cover the cost of gasoline and Red Bull. I drank a lot of Red Bull. After all, most of our going was in Austria. And when in Austria, you do as the Austrians do: drive slow, get hopped up on Red Bull, and never, ever urinate in a private lake.
Destination: The Moon
The Apollo Command Module did not have a rear window. What the spacecraft had instead was a parabolic spherical heatshield, designed to dissipate as heat the immense energy of the Saturn V rocket upon atmospheric re-entry. Had Neil Armstrong, Michael Collins, and Buzz Aldrin chosen to unclip their harnesses, turn around, and attempt to revel in the three hundred feet of fuel and rocket engines that would launch them on their 500,000-mile voyage, they would have seen nothing.
The harness in a piece of German engineering forty years on is much simpler: it's a three-point seat belt. Even buckled up, it's a cinch to turn around, and it makes a lot of sense. Behind the cabin of the Audi R8 V10, which is lowered into the very tarmac and sealed with a sliver of a glass window, is an engine of humonguous proportions sitting pretty below a vestibule of carbon fiber, its noise the edgy shriek of a Van de Graaff generator. As if its ten cylinders had their air force-fed to them through a supercharger instead of letting the cylinders take care of their own supplies as they so desire.
Correct that: as you desire. A squirt of fuel will send the needle careening from three thousand RPM all the way to eight thousand. Your unwary cry of joy will be swallowed by its monstrous rumble.
The R8 V10 hurtles down the passing lane of the Autobahn, similarly to a tall, blond man who died here eighty years ago.
The Cultural History of Audi AG
The man was tall, he was blond, his features handsome, his wife a test pilot. They lived in a world that deified their kind. Bernd Rosemeyer came to Auto Union's Grand Prix team from 1920's motorcycle races, he drove with a lithe touch Ferdinand Porsche's edgy racers which dallied with an amnesiac future.
The cars were mid-engined, unlike anything the world would see for decades, the cars were covered in thin sheets of aluminum, the cars had sixteen exhaust pipes rising from sixteen cylinders.
Driving these cars, Rosemeyer conquered all in 1936. A year later, driving a streamlined version of his Auto Union Type C, he became the first man to exceed 250 mph on the public road, covering a measured mile in 14.26 seconds. He would go on to live for another ninety-four days. On a January morning, his Rekordwagen's successor disintegrated around him. He landed on the perimeter of the Frankfurt-Darmstadt motorway, he landed softly and dead, he landed at a speed of 268 miles per hour.
The Type C's breakup would be followed in short order by the breakup of the Grand Prix team, the Auto Union company, the Third Reich itself. The marque would slowly reemerge in the 1960's, would grow into a new company as Audi, would excel at innovation—think aerodynamics, think four-wheel drive—and would, after decades of hard work, overtake BMW in many ways. In industrial design, in chasing the essence of being German, in sheer lustworthiness.