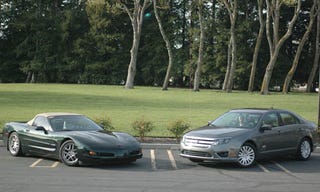 We put up Chevrolet's old-school classic, the Corvette (green in color), against Ford's new-school Ford Fusion Hybrid (gray on the outside, green on the inside), and ran 'em both hard in a road rally.
This challenge had some timeless never-ending grudge matches: Chevy vs. Ford, rear wheel drive vs. front wheel drive, and convertible vs. hard top. And some added new-age grudge matches: Internal combustion vs. hybrid and a generational dispute (Rally Scores: Grandpa vs. Grandson).
SCORING
The cars would be scored during the challenge by the following criteria:
a. Fuel Mileage
b. Acceleration
c. Handling
d. Passenger Comfort
e. Overall Rally Score
WARNING: Do not assume any scientific method was used during this challenge. It was merely a bunch of car guys with a Sunday to kill screwing around on country roads. This should not be confused with actual automotive journalism (if there is such a thing) in any way.
THE EVENT
The rally where we chose to settle this grudge match was run north of San Francisco, CA by the Empire Sports Car Association (ESCA). The gimmick rally would run us miles and miles through some great back roads. Well, I use the word "great" loosely. The scenery was beautiful, the roads were twisty, but there were pot holes large enough to swallow a Smart Car.
THE COMPETITORS
Our first contestant was a green 2000 C5 Chevrolet Corvette Convertible, or "roadster" as my Dad likes to call it. Rear wheel drive, two seats, with 5.7 liters of gas-guzzling fury under the hood. Acceleration good, gas mileage at wide open throttle, eh, not so much.
The Vette was driven by Jim Krider, the patriarch of the Krider Racing enterprise. Jim is a bow-tie man. He has never actually worn a bowtie in his life but he currently owns numerous Corvettes, Camaros and El Caminos –no Chevy man is complete without at least one El Camino. Most of his Chevrolets don't run, but they still hold a special place in his heart, and to the dismay of his neighbors, they also hold a special place in his driveway, the street in front of his house, the street around the corner from his house, a friend's barn or any damn place he can leave a Chevy to rot for a while. Jim's predictions of the challenge results: "I was winning races and rallies before you were born!"
Our next contestant was a 2010 Ford Fusion Hybrid. This car runs silent in electric mode, has a hard top and plenty of electronic gadgets for Millennials. It rolls with front wheel drive, with seating for five and an iPod jack with Ford's SYNC system.
The Ford hybrid was navigated by 13-year-old Soap Box Derby racer Gus Krider, the grandson of Jim Krider. Gus's predictions of the challenge: "All I want to do is beat Grandpa."