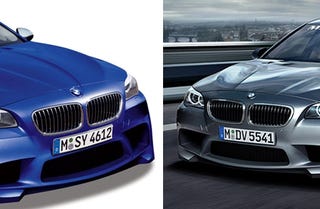 Jon Sibal renders next-generation cars before they're revealed — a commodity coveted by auto insiders, analysts and car-crazed fan-boys. Now he's fighting Car and Driver, Hachette's money-makin' machine, to acknowledge his work was stolen. Here's his story. — Ed. UPDATE!
UPDATE: After reading the story here on Jalopnik, Car and Driver Editor-in-Chief Eddie Alterman commented below, saying: "Well, it's pretty clear we were duped. Hereby acknowledged, and we will run your letter, John. Let me know what else we can do." This story's a good reminder of the importance of allowing derivative works in today's smaller budget media landscape — but to do so with fair crediting of sources.
UPDATE: After Eddie Alterman commented on the record about the incident here, Car and Driver's hired gun artist Mark Neeper issued a statement apologizing for stealing the image:
Dear Mr. Sibal,

I am deeply sorry and embarrassed.

I had found or already had various M-Kits that were chopped out or semi-chopped out of their backgrounds, not properly comprehending where they sourced from - even factory photo "kits" of M edition vehicles, which in retrospect, I should have used. I am so embarrassed and hope you will accept my sincere apology for this error.

Your work is fantastic, and I hope we can be friends in the future, and thank you for your kind words in the midst of this mishap.

Sincerely,

Mark Neeper
Ah, man, it happened again. Parts from one of my speculative rendering have been ripped off yet again with a sole purpose of creating a rendering of the same model. I HATE THIS.
Remember that RMR/Hyundai drama? (LINK) I'm glad that was resolved.
Another time was when I did my rendering of the then NSX-replacement now known as the HSV-010 (LINK). I created that rendering for 0-60 Magazine and I caught it appearing in some Japanese magazine flipped horizontally but undeniably a direct copy of my work. The magazine denied and refuse to acknowledge the uncanny similarities of both renderings. Unbelievable.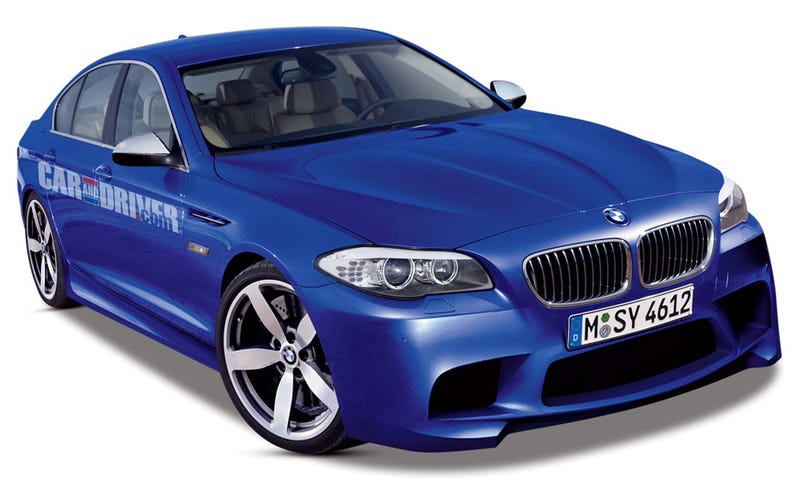 But wait, this F10 M5 rendering looks familiar. Let me post my original F10 M5 rendering to compare. Maybe it just looks similar but nothing else. Heck it's blue, facing the other way, different wheels on a white background so it must be an original rendering… right?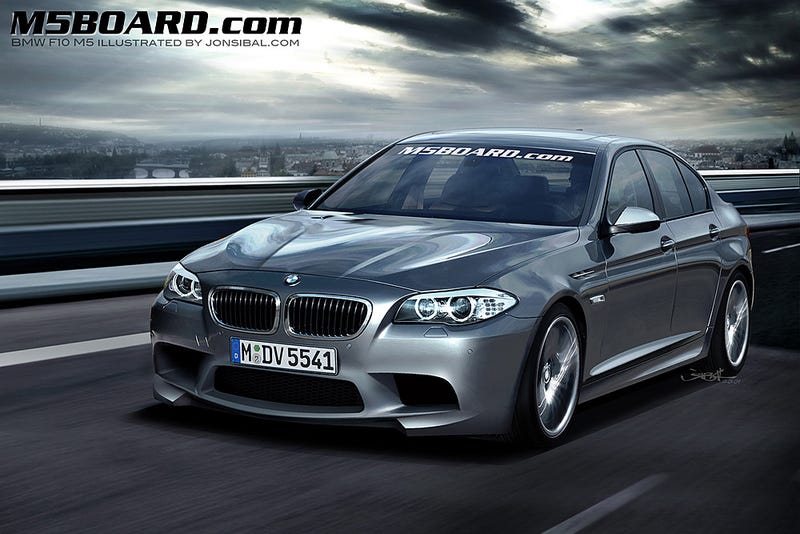 OK so after comparing it to my rendering I did back in Dec for M5Board.com, I can see that the base image of the 5er is different from what I used. BUT, the parts that I brushed, painted and designed to make a regular 5er look like an M5 (front bumper, Side vents/gills, side mirrors, and side skirt) were all copied and pasted onto the C&D M5 rendering.
But you might be thinking "OK so what's the big deal?! There are tons of Digital Artist out there that can design and create what you did, which can turn out looking or very similar to yours!"
I understand that there are plenty of other artist that create these speculative renderings and this is not my concern. What bothers me is the whole COPYING and PASTING parts from previous artwork which took C&D artist Mark Neeper only a few minutes vs days of airbrushing and painting I've spent to create my F10 M5 rendering.
For someone to "copy and paste" parts from my artwork unto theirs and claim it as theirs to be published in a reputable magazine and failing to credit me for the most important parts of his illustration is just wrong any way you look at it.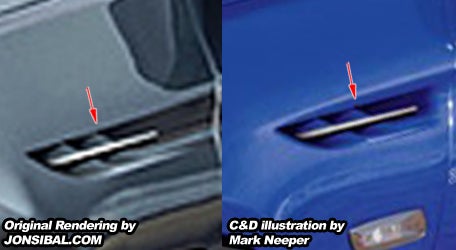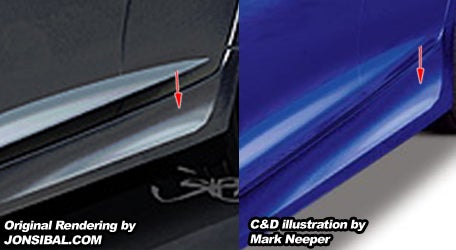 Ok fine maybe those are just another coincidences right?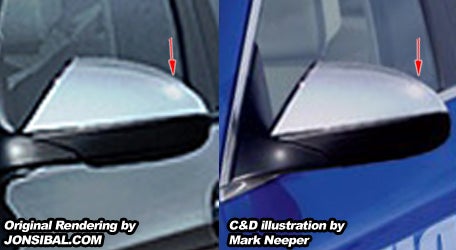 Still not convinced? OK how about this. Since this wasn't the first time my work or parts of my work have been ripped off, I thought to look for small details I left in my original work and if it shows up in the C&D rendering, then there should be no doubt that I was indeed ripped off again.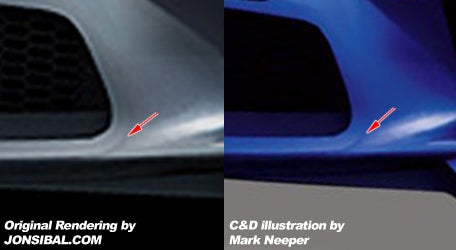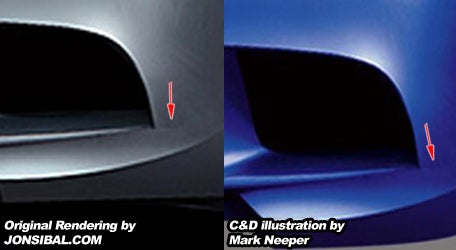 These marks should be unique to my rendering only. The ONLY way for it to both appear, in the C&D rendering is from a COPY and PASTE job.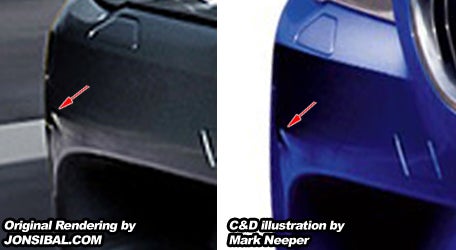 Again, that very line SHOULD NOT be in the C&D rendering, no reason for it. But only reason again for this to happen is through COPY and PASTE.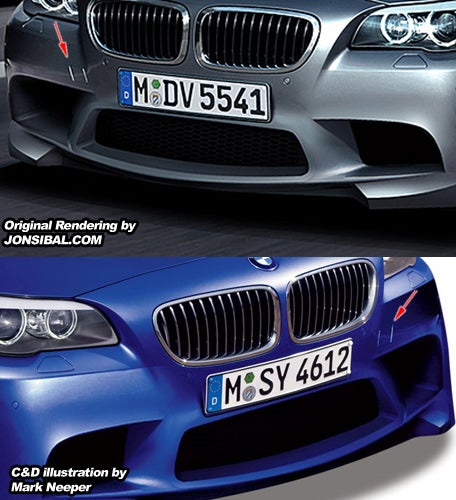 Again, our designs looking similar is not the issue here but it's the act of directly copying (cutting out pieces of my work) and pasting it unto theirs for the sole purpose of creating a rendering of the same model. It's simply disrespectful to the original artist. This COPY and PASTE process is a cheaters way of creating speculative rendering through existing speculative rendering. I would rather have the artist take time to brush, paint and design the bumper himself with it endiing up looking like mine rather than ripping off parts from my artwork for any reason.
I wrote an email to Car&Driver Magazine to inform them of this issue. And for Mark Neeper, from the previous work I've seen from you, you are no doubt a skilled automotive artist. But with all due respect, ripping off parts from an existing artwork to create a similar speculative rendering is downright wrong. You are an artist and I hope you can understand my frustration.
My hopes is that both C&D and Mark Neeper will acknowledge this so we can move on.
I'm waiting for C&D's reply and will update this post as soon as I hear back from them.
USEFUL LINKS:
LINK to the Car&Driver article
LINK to the Car&Driver M5 Illustration by Mark Neeper
LINK to my BMW F10 rendering blog post
LINK to my DeviantArt site featuring the BMW F10 rendering
LINK to M5Board who I created this rendering for
Jon Sibal is both a talented automotive illustrator, shedding light on the future of cars in true-to-life renderings as well as a comic book artist, inking Superman in the pages of Action Comics. Follow him on his web site here.