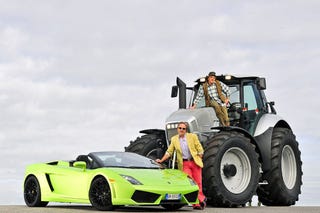 Choosing a Lamborghini is not an easy flip of the coin between a Gallardo and a Murciélago. Towering above them all is the R8: not the Gallardo-based Audi R8, but Lamborghini's very own R8 tractor.
As any petrolhead worth his salt knows, Lamborghini was a maker of tractors before it became a maker of supercars. Although in three short years, the first Lamborghini car will turn half a century old—along with the Giotto Bizzarrini-designed V12 engine, which is still in use in the current Murciélago SV—Lamborghini have not stopped making tractors when it switched to making Miuras and Countaches. Lamborghini Trattori is now owned by Same Deutz-Fahr, but they still make tractors with the Lamborghini name and logo.
This was what inspired Auto Bild journalist Wolfgang Blaube—you'll recognize him as the mischievous mind behind the Mattrack-equipped Hummer on the snowed-in Nürburgring—to do his own take on Ferruccio Lamborghini's dual personalities.